Contest
Your experiences prove it:
Daytona® motorcycle boots are worth every cent!
Daytona® motorcycle boots have been around since 1973. During this time, many satisfied customers have written to us about how much they value the quality of their daytona® boots. Write us your story, e.g. how many years you have been on the road with your daytona boot, or how it has protected you from injury in the event of an accident, or simply your opinion on our products.
Or send us a picture of yourself or friends, out and about with a daytona® boot, on a tour, on vacation ...
---
Take part in the competition right away
---

We raffle a pair of Shorty from all submissions every month.
The current winner of the month:
You can't walk on water with Daytonas. You bet.
There you go! My first real motorbike boots (1983) were already Daytonas (at that time with the rear zip and leather gearshift reinforcement) and since then again and again - because registering motorbike boots is not something you want to do that often. Because it takes time. So I prefer quality that is also repaired! With many thanks for 40 years of happy feet while biking, Andreas Woest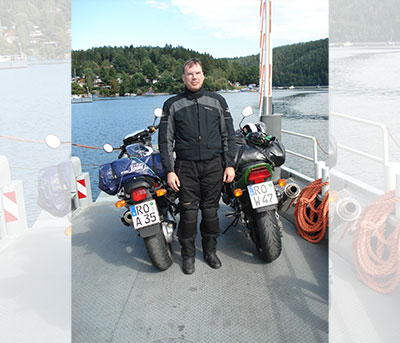 Stories with daytona®
Comfortable and precise gear control In every situation.
Thanks
Toshiyuki Fukushima, Germany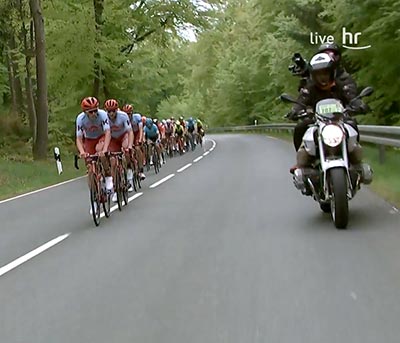 Daytona,
faithful companion on my motorcycle tours.
Andreas Härtelt, Germany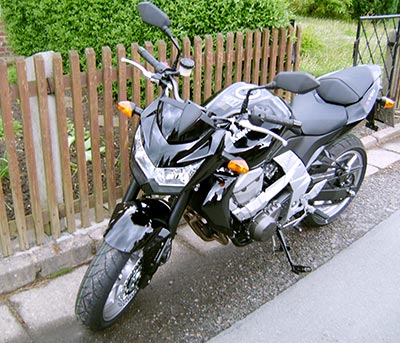 Wonderful
I borrowed them from a friend because I couldn't afford 'em myself yet. They are such beautiful motorbike shoes and really comfortable. A dream come true.
Tanja Brekeler, Germany

Of course, nothing else gets to my feet.
25 years ago I had a serious motorcycle accident on the motorway between Basel and Karlsruhe. At that time the Daytona boots saved me from serious foot injuries. In 2016 I started riding motorcycles again. Of course nothing else comes to my feet than Daytona (currently the Road Star GTX). Once Daytona - again and again Daytona.
Thomas Patrik, Switzerland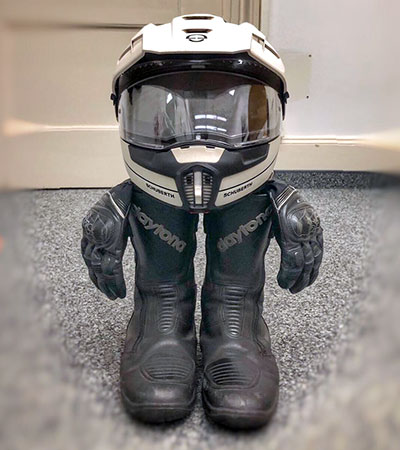 The only thing left I can keep were my Daytona motorbike boots (and my legs)
I was in a motorbike accident (not my fault). I was injured and my motorbike was a right off. My gloves, helmet and jacket were damaged beyond repair. The only thing left I can keep were my Daytona motorbike boots (and my legs).
James de Bruxelles, Australia

Every cent is well invested ... many thanks for such a good quality!
The daytona Touring Star GTX was the first protective clothing I bought for motorcycling when I took my A1 driving licence in 2007. For driving school I still had my mum's station wagon, helmet and gloves, but unfortunately the shoes didn't fit because they were three sizes too small for me. So boots had to be made and after a lot of trying on the daytona just sat perfectly and were super comfortable. And they still are today. No matter if for the tour or for curve/safety training, they gave me a safe stand at (almost) every kilometre I have driven so far. It was a very hot day in August 2014, when I "just wanted to go fast" through the city and was on my way with Chucks instead of my boots... It came to an accident, in which I fortunately only suffered bruises. My ankles were very badly affected by the fall and were green and blue and thick. I regretted not having my boots on. It wouldn't have been half as bad. That is still a lesson to me today and I only ride with motorcycle boots, no matter how short or long the distance is. A little fun fact at the end: My daytona are still the most expensive shoes I own (and as a woman I already have some ;), but I have to say, every cent is well invested, if you buy your boots. Many thanks for such a good quality! Best regards
Cynthia Suck, Germany

For the first time I bought daytona boots ...
and would do it again and again.
Ulrich Eiseb, Germany

31 years, 4 motorcycles, over 240.000 km - one daytona
Hello, I have been riding motorcycles since 1985 and bought my first and so far only motorcycle boots in 1987. They lasted until 2018, when unfortunately the sole came off and they couldn't be saved anymore. I don't remember which model it was from daytona, the inscriptions were no longer legible, but they resembled, with the leather protection of the zipper, the model Voyager or Spirit. That's exactly what I'm going to get now. What should I say after 31 years, 4 motorcycles and over 240.000 km? Made in Germany. By Hand!
Andreas Hell, Germany

19 years, 150,000 km, and a combine harvester.
In the year 2000 I bought some Road Star GTX, a super boot. In winter 2014/2015 I sent it in to renew the sole and it was like new again. Then in the summer of 2015 I had an encounter "of the third kind" with a combine harvester in a bend on the country road, he crossed the road in a bend, no chance to avoid ... my Triumph Sprint GT (270kg) came to rest on my left foot and my foot/boots were trapped under it. What shall I say, the boot protected the feet and shins 100%, got absolutely nothing, were intact and painless. The boots had also optically almost not suffered and I drive them until today. Unfortunately, last week, the gear change has disintegrated and I will now put them out of service, after 19 years of loyal service and about 150,000km. And they will be replaced by, quite clearly, exactly the same model again. That there is still something to buy, which is almost unimaginable nowadays.
Thomas Hlavacek, Romania.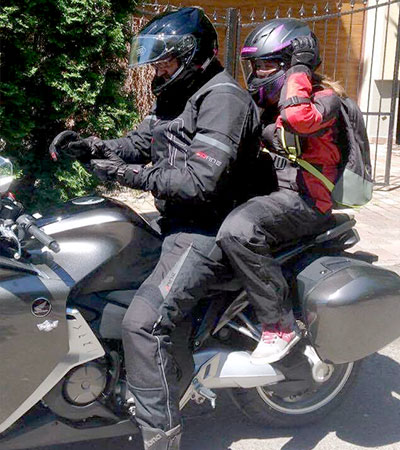 Durable and comfortable over many years
In the mid 90s I bought my first pair of motorcycle boots - Daytona Flash. The boots were so durable and comfortable that I didn't get rid of them until 15 years later. Most recently, they were mainly used on hot summer days. For the other days I bought Voyager GTX, who now do their duty for 10 years. Uwe Nagel, Germany

Long searched, finally found
I've wasted a lot of time looking for new motorcycle boots. Own brands here, ital. Manufacturer there, but none really fitted. Last but not least a pair of VXR-14 GTX as last option; a small price challenge... slipped in and felt good! TOP! Season 2019 can begin for me.
Patrick Spielvogl Germany

Just one pair of boots
15 years, 60,000 km, every damn pass, every hour of riding a motorcycle... and just one pair of boots. Never cold, never wet, never hot ....
Volker Jordan, Germany
Three good reasons
As a veterinarian in the emergency service I also like to use the motorcycle when the weather is good. For this I have chosen the AC4. The reason for the purchase was the well-known quality of the boots, the good fit to the motorcycle jeans and the insensitivity to dirt (hence the dark model :-)). I would be very happy about a model to change.
Sabine Geiling, Germany

Falls and theft in Sardinia
Unfortunately I fell off my motorcycle in Sardinia and had to go to hospital for five days. The police said that my friends should put the bike on its side and that the towing service would pick it up the next day (Monday). Since my friends couldn't take everything of me with them to the hotel, they left the 4 year old boots at the motorcycle. The next day, both were gone - motorcycle BMW S1000 R and Daytona Strive size 44. And now I'm fighting with the insurance!
Thomas Ott, Germany

Super Parts
I bought myself Daytona-Steifel (Road Star) in 2004, which were of course immediately tested for tightness in the river bed during the first ride. Test passed! In 2018 I had to "already" sort them out because the gearshift reinforcements came loose. Super parts.
Dagmar Lukert, Germany

Worth the price, considering all the advantages
Hello together, if you can enjoy the landscape during a break on the Ligurian border ridge road and don't have to be annoyed by hot, uncomfortable feet, Daytona boots are for you. Anyone who still has trouble with the price of the boots should include these moments in the calculation. No matter in which weather, and in my case for over 10 years with the same boots! I wish you all beautiful and safe rides and tours on your bikes.
Ralf Bierhaus, Germany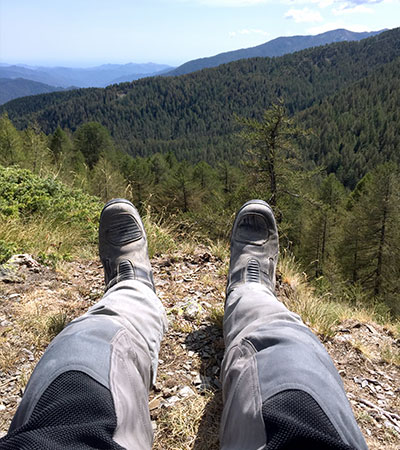 Convincing quality and fit
For over ten years I have been riding exclusively Daytona motorcycle boots. Quality and fit are excellent and convince me completely!!
Stephan Lindemann, Germany

After some mispurchases ended up at Daytona ... and never bought anything else again.
I don't have just one experience I want to tell you. I am 52 years old and have been riding motorised two-wheelers since I was 15. After a few mispurchases at a young age, I ended at Daytona. And what can I say, since then I haven't bought any other boots (for motorcycling). Waterproof, comfortable, durable. And now I am looking forward to the new AC Classics GTX. For journeys to the beautiful mountains of Europe it is helpful to wear a boot that meets all the requirements while driving as well as being comfortable when exploring the non-drivable corners and peaks. On a new path ... the way is the goal. Greetings
Harald Schuller, Germany

Simply the best
I was selling my Daytona AC Pro when I sold my motorcycle. Now after a re-entry only one brand for motorcycle boots comes into question for me. - Daytona - I already ordered some AC4s. Simply the best!
Thomas Mergenthaler, Germany

Nothing broken thanks to daytona
I had a motorcycle accident two years ago and I was wearing Daytona Trans Open boots. My left leg was heavily swollen and bruised. But nothing was broken thanks to the boots. I ride only with Daytona boots motorcycle.
Michael Neeb, Germany

Recommended
Previously, I used boots from different manufacturers, some of them had good protection, but they were hard to make and a couple of steps, others were comfortable walking, but there was almost no leg protection. A year ago, I purchased the Daytona Evo Sport. Now I have excellent protection and the ability to walk freely. Recommend.
Alexey Aleksandrovith Khokhlenkov, Russian Federation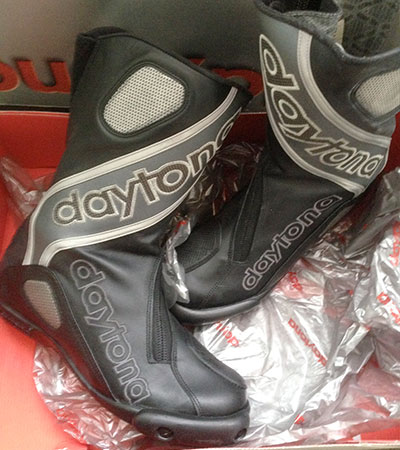 This purchase was really worth it!!!
That's why I bought a pair of new Road Star GTX in autumn 2017 due to signs of aging. On the first trip in 2018 I was already happy to have a new couple. In a stupid accident my thigh was severely injured, but the boots protected me super. No ankle or foot injuries.
Matthias Margolf, Germany

Without Daytonas
my life would not be as well secured as with Daytonas.
Björn Micat, Germany

A truly great product
With the boots I am daily from March to partly November on the way, also on longer tours ... Heat and wetness don't matter with good care, a really great product ... TOP Robert Kullmann, Germany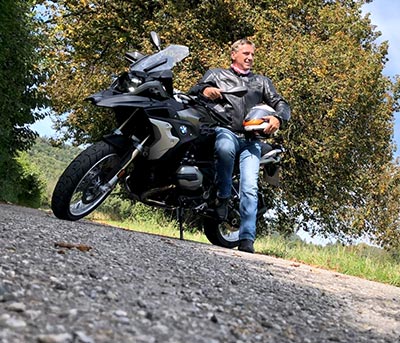 Like new again after 5 years ... that's what I call sustainability
Hello Daytona, when I bought my Daytona Road Star 5 years ago, I already swallowed something because of the relatively high price. Now, after 5 years, the boots are a little worn out. I had the boots remanufactured by your specialist dealer, they now look almost like new. That's what I call sustainability - I would have had to dispose of other boots. The Daytona come back as good as new and will do it for another 5 years. Thanks a lot!
Thomas Patz, Germany

I just wanted to say thank you
Dear Daytona, I have a pair of Roadstart GTX gortext boots. I have had these for 4 years now and have used them in all weather conditions in the UK. They have never leaked water or become to wet to wear they look as good now as they did 4 years ago and have now covered 100000miles. I just wanted to say thank you for such great boots I will be buying another pair if these ever go wrong. Thank you so much.
Peter Stanyer UK

Finally
After the sole of my motorcycle shoe (no brand) came off completely during my last motorcycle tour, I bought the Daytona Roadstar GTX yesterday and can hardly wait for the first exit.
Jürgen Manns

Since 1992 only Daytona, there is nothing better!
Especially the service when the soles are worn out or the switching amplifiers are worn out. It is helped. Greetings
Sieghard Lauter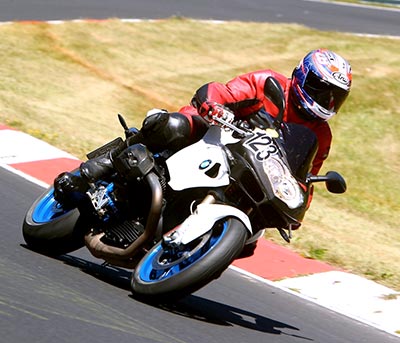 These boots are the best in the business
I have had this pair of Daytona boots since 1997. They have been resoled twice and the zipers have been replaced once. I have probably covered well over 200 000 miles in them riding extensively all over the UK, Europe and Australia where I spent 2 years. They do leak now and are very tired, but as I just replaced them with a new pair of GTXs, and will still hang on to them for the odd emergency as I ride daily all through the year. These boots are the best in the business and are very comfortably to ride and walk in all day, day after day after day. Yes you pay for them, but you get the value, quality longevity back over the years. A must for any serious rider.
David Hollinshead, England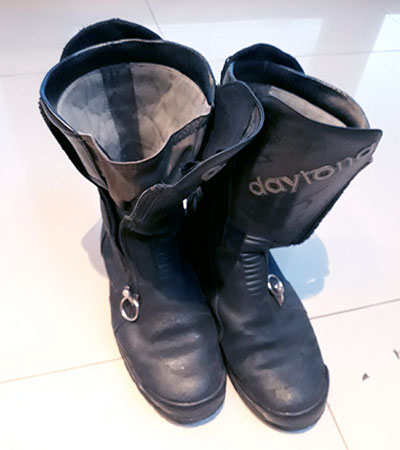 Not cheap - but worth the price!
Since 2010 I ride Daytona brand products - here now my experience with motorcycle boots with Gore-Tex Since April 2010 and about 60,000 kilometers ridden: I used Daytona Journey XCR for about 40.000 km - then list price 249,-- €, selling price 219,-- € (04/2010), Daytona Travel Star GTX for about 20.000 km - then list price 349,-- €, selling price 319,-- € (02/2018). Here the facts of the order: Before buying the boots I informed myself in the Internet as well as with a call at Daytona directly and received very good information for this. Finally I bought the Daytona Journey in a Polo-Store and the Travel Star GTX in a clearance sale at a BMW dealer in the web shop. Fit/wear comfort: The summer boots Journey were super comfortable and very fast to put on right from the start. With the Velcro fastener this is simply an ideal thing, in addition the entrance is super comfortable. With the Travel Start GTX it's a bit different. The entrance is very comfortable, but only if all zippers are open. I had sent the boots back to Daytona at the beginning of the use to widen them, because I came in loosely, but the main zippers were simply not closed. This was much better after the widening and meanwhile, after a lot of use, this is no longer a problem at all. It's a pity that I got an invoice from Daytona for this, if I had imagined a good service to get it for free. Weather protection: Absolutely TOP - even the Journey XCR keep your feet dry and tight during heavy downpours! Of course, these are not suitable for very low temperatures due to their design. They are rather summer boots. I had only 1 x water in my boots during the whole time, but that was a cloudburst and the water ran rather from above into the boots, the membrane was always tight in any case. With the Travel Star GTX boots I don't worry at all, the way they are built you can also run in the water without water penetrating. Cold protection also at the toes very well. Safety: how it has to be! Summary positively noticed: - Fabrics and materials very comfortable - Absoulte waterproof - Reflective stripes - Very high stability - Ankle protectors fit very well - Comfortable fit - Customer service even after a few years - Very high quality zips - Climate in boots good - TOP workmanship - Journey also ideal for running - Country of manufacture Germany. Not so good: - With the GTX very cumbersome handling with the zippers - With the GTX fastener of the zippers only with "force" possible - Partly only in black available - no signal colors - Price Result: Very high-quality boots - both can be seen as TOP product. Very good, full seat, high comfort on tours and best fall protection. Not cheap - but worth the price!
Ulrich Hofmann, Germany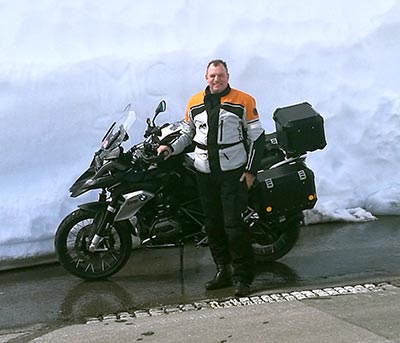 At first, I was sceptical as to whether the higher price was justified.
But with the great boots I never got wet feet. And they just fit great. No pressure marks! I am very satisfied and will recommend them again and again.
Uwe Eichner, Germany

857 km
in pouring rain and still dry feet
Sandra Hein, Germany

A reliable companion for years
I bought my Touring Star pretty much at the beginning of my "motorbike career". That was about 2008 when I had to replace cheap, non-waterproof boots. It became a Daytona after a recommendation from a friend, and I haven't regretted this decision once. No matter if at 35°C in summer or at sub-zero temperatures in winter, in pouring rain, where the rain suit gave up for a long time - the Daytonas never gave up, kept my foot dry and also saved me from injuries in two falls, one of them violent at 100km/h. Despite his injuries he hasn't lost a single piece of his quality. No matter who asks, I always recommend a Daytona - even without being able to draw further comparisons - because I am very satisfied with them and would not try anything else.
Matthias Weiß, Germany

faithful companions for 30 years
Hello, in 1978 I bought my first pair of Daytona leather boots. They were my faithful companions on my motorcycle tours for 30 years. In 2008 they were finally allowed to retire, because I bought my Daytona Sport Easy GTX, which I still wear today, see pictures. PS: Great praise for the quality and the fair price-performance ratio! With kind regards from Kaiserslautern
Michael Knieriemen, Germany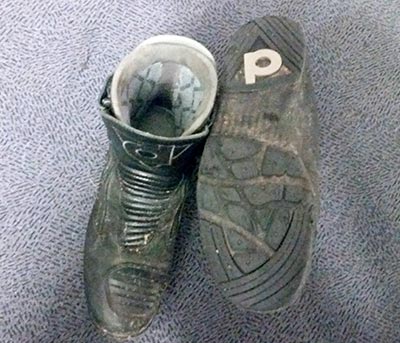 Outstanding quality and remarkable service
In 2002 the first Daytonas came to my big feet. The road stars accompanied me for many years inconspicuously, in the rain, in the heat, sightseeing and sometimes on the race track. At the end of 2015, on a tour through Morocco, my boots ran out of breath. The gearshift reinforcements were detached from both sides of the substructure, and the soles had been worn through and sanded down in the meantime. After 13 years of intensive use, it was now time to invest a few euros in new boots. The Road Star were left behind in the south and were immediately replaced by new Touring Star GTX. Like their predecessors, the boots fit perfectly again. In addition to the excellent product quality, Daytona's remarkable service should also be mentioned. After three years there was a problem with the interior of the 'new' boots. The repair service was able to fix this at short notice and even as a gesture of goodwill (thanks also for that).
Michael Schultze
Daytona and my Susi
are simply a well-rehearsed team, no matter what the season.
Andreas Härtelt, Germany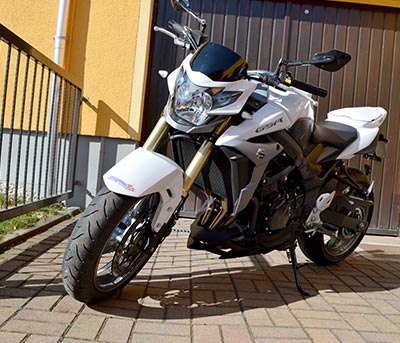 Mountain hiking with daytonas - no problem
With my GS I drove this year to the Rossfeld-Panoramastraße and then to the Almbachklamm in Berchtesgaden. Unfortunately I had forgotten my mountaineering boots. Since the weather was simply wonderful and I intended to hike to the Kneifelspitze, I did the hike with my Daytona boots. No problem! The view of the Watzmann and a - non-alcoholic - wheat beer were the most beautiful reward above. And when I arrived back down at my GS, I had experienced a dreamlike day: Rossfeld and Kneifelspitze and that without mountain boots, but with my "Daytonas". Your
Max Baßlsperger, Germany

Quality is worth it
On my Sport Easy GTX the gearshift amplifiers were getting on in years. The boot is almost 10 years old. Send an inquiry to Daytona for repair, answer no problem. Said, done. Boots came after a week again, looked like new, even new insoles in it. I was very happy. One rarely experiences such a service. It's worth spending money on quality. Because the service there is also right. I hope this company will continue to exist for many, many years to come.
Gerhard Krämer, Germany

Daytona boots are so comfy.
My dog keeps stealing them from me!! -Denim, a very happy customer ;)
Denim Brack, Belgium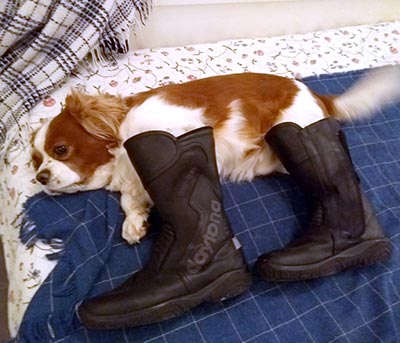 A safe companion for life
Sounds hackneyed, but safety first! Half a year ago I might not have talked like that. Before I always drove with normal shoes for financial reasons. But then, in an accident, I had a torn ligament on my foot. The fall happened not with the motorcycle, but with the bicycle! And that at moderate speed. Not to think about what can happen with the motorcycle. But from such situations one learns and therefore I have bought myself a new companion for the life. - Thank you Daytona.
Alexander Litvinov, Germany

For 12 Years now, through all Seasons
A big thank you to Daytona! Hi, I am Erwin from Amsterdam. I have been using my Road Stars for 12 years now, through all seasons. As you can see, i used them well :) so i decided to stick with you guys and bought myself a new pair of Road Stars today.I just wanted to take some time to write you and thank you for the top notch quality. Use this message as a testimonial or publicity, because i am very happy with the Road Stars! 12 years every penny well worth!! Kind regards from Amsterdam,
Erwin den Engelsen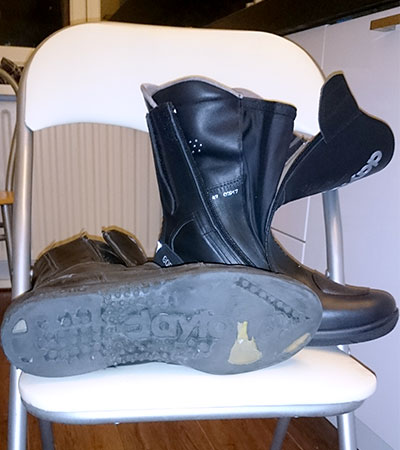 Far, far ahead of all competitors
"Made in Germany" ...rare, but it still exists, the term... I have been wearing daytona motorcycle boots for 37 years now and will continue to wear them for at least 20 years until I stop riding motorcycles. At the age of 15 I started riding motocross races. All the money I could earn at that time I put into my passion, motorcycling. As much as my parents would have liked to support me financially, with four children and a salary it was simply not possible at that time. I had bought my first vehicle and all my equipment in used condition, including my first Daytona boots. They were like on the photo, but in black and white :-) Until today I have been riding a few types of motorcycles (motocross, off-road, trial, supermoto and road) and daytona boots have always accompanied me. ...almost always, because I have tried a few competitors... For me, daytona still lies today in terms of design, quality, service and, above all, corporate management... no... today even more so... far, far ahead of all competitors. Greetings to the management, all employees and of course to all daytona friends,
Jürgen Beier, Germany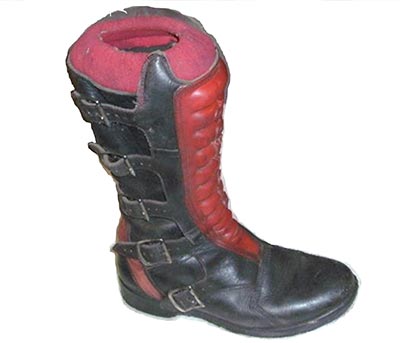 Never another brand
5 years ago I took over my father's very old Daytona. They have been serving him faithfully for a long time and I have also descended thousands of kilometres with them. Never again another brand, really great what you are producing in our region!
Philipp Radecker, Germany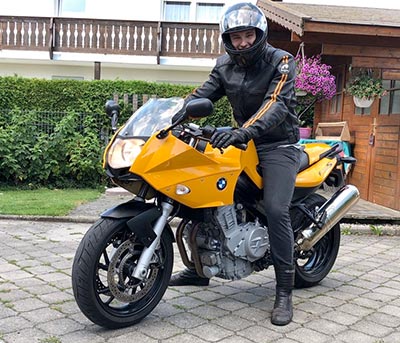 Without Daytonas it does not work
On the way with borrowed Daytonas, because the good weather came back faster than the boots from the repair.
Bernhard Reckmann, Germany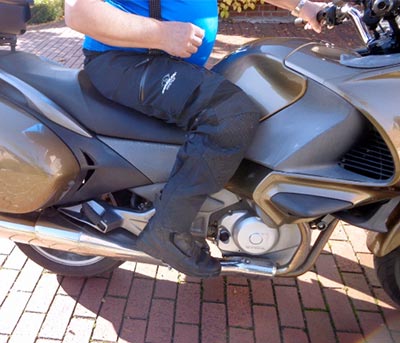 I'm excited
I have owned Daytona boots for 5 years and I am thrilled! On the photo I stand in Daytonas at Kazakh - Chinese border and I am happy!! Greetings to Daytona-Team
Vitalij Tchernych, Germany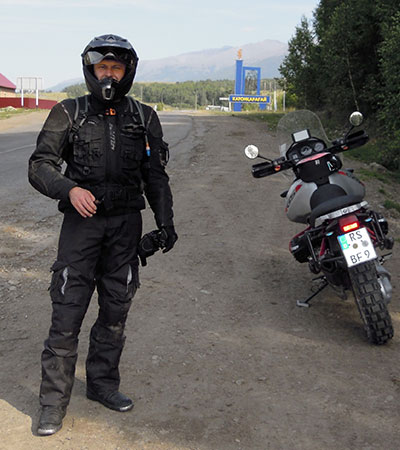 Others are not worth a try
After 5 years and a fall experience they are still comfortable and top. The only drawback The sole is almost smooth. Buy me Daytona again and again, because I attach importance to German complete production. I had recently tried on an Enduro boot with the Asians: Size 48 was max.47. The buckles were not stuck. The screws of the buckle holder were rusted .ALSO: It was not worth a try. Conclusion: Quality and production= DAYTONA
Walter Fasse, Germany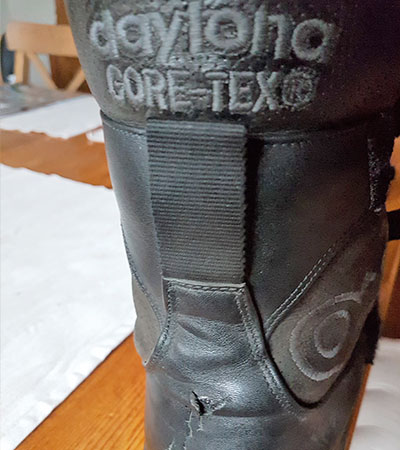 My M-Star
10 years, 120,000 km, on the way to overhaul.
Bernhard Reckmann, Germany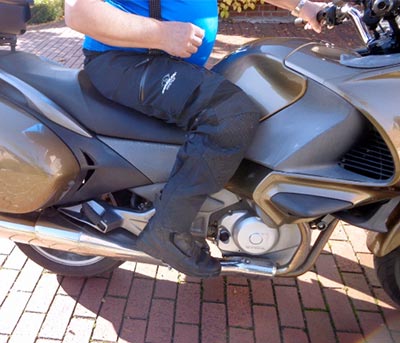 8 years, 1 boot
For the past 18 years I am traveling with the same pair of daytona boots summer and winter. Work-up has been necessary now I send them well but soon into well-deserved retirement. During a fall of 50 kmh and the stupid attempt yet to stabilize the load with the foot, I've broken my ankle unfortunately a few years ago because no help was in sight but kept on the boots. Due to the swelling, the leg was wonderfully splinted in the boot and I was able to drive independently to the hospital the next day. Not recommended for imitation !!
Magnus Spangemacher, Germany

First cream ride comfort
Every year, Daytona is my faithful companion on my GSR. Whether short-haul or day trip, the ride comfort is always first cream.
Andreas Härtelt, Germany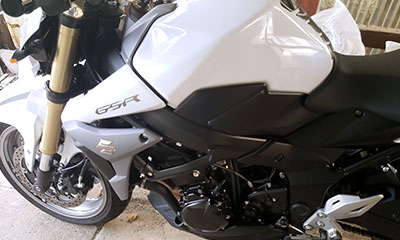 They do everything
My Trans Open GTX have seen in almost exactly 10,5 years and about 90,000 km in my possession for the third time already the North Cape and also quite a lot of Europe. As you can see in the picture, they still have a lot to do and keep my feet nice and dry even on longer trips in bad weather over gravel in Scandinavia.
Christian Kunder, Germany