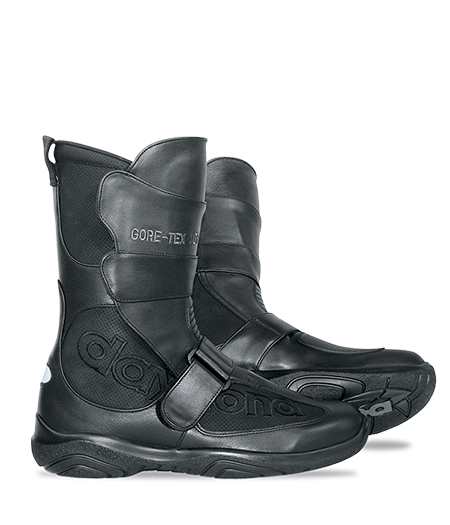 Burdit GTX
Sports boots for hot days, combined with perforated nubuk leather.
waterproof and breathable thanks to GORE-TEX
Height of shaft: ca. 28 cm
Sizes: 36 - 49
Color: Black
Advantages
water-repellent and greased cowhide/perforated nubuk leather
Gore-Tex Carbon Grey (80 % polyamide, 20 % polyester)
waterproof and extremely breathable
optimum heat dissipation and extremely high breath ability to prevent overheating of your feet
perfect climatic comfort all day long, at much or little activity
velcro fasteners to get in quick and easily
donning aid
soft shaft end
reinforced gear change pad from abrasion resistant PU foam
PU foam sole
anatomic formed climatic insole
Safety
ankle protection, both sides, padded inside with open-cell special foam
a plastic reinforced inner sole with a hot-dip galvanised steel inlay, that allows you to gently roll your feet
3M-Scotchlite reflector
non-slip sport rubber sole
Awarded!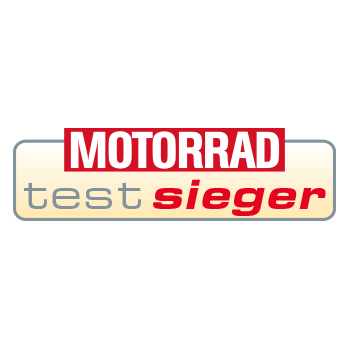 Touring-Sportboots
issue 10/2007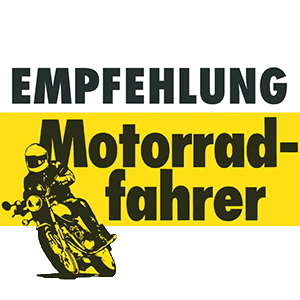 waterproof boots
7 boots tested
3 recomendations
issue 04/2009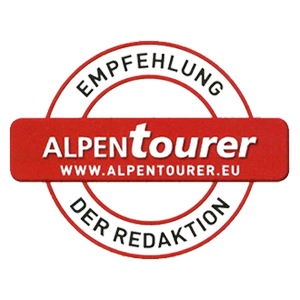 Test
issue 02/2013
What the trade press says:
60th award for daytona®: Burdit XCR® – the perfect touring boot
The editors of the magazine ALPENTOURER took a look at the tour boots and recommended Burdit XCR® from daytona®. The conclusion of the testers: ... The Daytona Burdit XCR are perfect tour boots. Perfect fit, workmanship, quality of materials - there is nothing wrong with it. Additionally, there are the easy way to start and a pleasant foot climate, in all weathers ....
44th award for daytona®: Burdit XCR® – the winner with no flaw
The magazin MOTORRAD gives the daytona Bandit XCR the title Motorrad winner. They tested higher classed sporty Touring-boots. The winner: Bandit XCR.
A very comfortable, light-weight Touringboot of the Bavarian outcome company daytona. There's no flaw. And definitely no wet feet.
50th award for daytona®: Burdit XCR with recomendations
In a survey of "Motorradfahrer" biker's magazine in April, there was a test with waterproof-boots to find out if they are good manufactured and have a good inner sole. The daytona Bandit XCR was recommended.
Conclusion: Manufacture: very good. Cost/Performance ratio: good. A sportive short-shaft modell for warmer conditions with high wearing comfort.
MOTORRAD-judgment: good
The generously perforated Burdit XCR with its thin insole is actually less suitable for trips to the North Cape, because thick wool socks are recommended as protection against the cold even at temperatures below 15 degrees Celsius. However, the three test riders found almost Mediterranean summer weather in Norway and were absolutely delighted with the excellent air conditioning of the boots. This is ensured not least by the XCR membrane, which has hardly been used in the motorcycle sector until now and is much more vapor-permeable than normal Gore-Tex, which is now standard in hiking boots. The very light, absolutely waterproof boot with easily accessible Velcro fasteners is comfortable to wear even on long walks or a stroll through town, but two testers complained about pressure points on the heels during the period of entry. The poorly profiled, thin-walled and very slippery sole is unsuitable for mountain hikes. It also doesn't look good on wet footrests. Daytona responded promptly to the criticism from MOTORRAD and promises immediate improvements to the sole and heel cut.
Conclusion: comfortable and very well ventilated summer boot