Leather is a natural material
Like every skin, leather has its own special qualities. Pigment marks, vein lines or different structures are some of these variations. Slight differences in thickness and slight color nuances can never be completely avoided in the production and processing of leather and do not constitute grounds for complaint.
The base material is an approx 5 mm raw cowhide which is preserved through the tanning process. The first layer (the grain lining) ranges between 1.3 and 2.8 mm thick and builds the full-grain upper. The other leather layers (the lining) are used as linning material. The water resistant quality of the leather is reached through the tanning proceedure. This water resistance requires regular refreshing through appropriate care.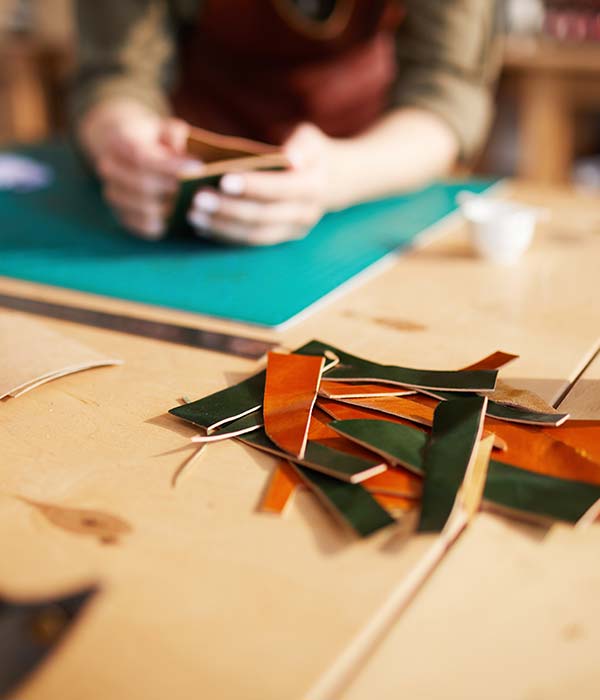 Care tips
With daytona® you are safe and comfortable on the road, and for a long time. Because your daytona® boots are loyal companions that take part in many tours and stay in great condition.
However, you should give the boots some support. Because our boots can do a lot except for one thing: take care of themselves. You read that correctly, this is about cleaning your boots. Sounds old-fashioned – but that's how it is. Works wonders, promise.
Basics
3 quick tips for the care in between
Regular cleaning and care.
daytona® boots are famous for durability. You can make your boots last even longer by cleaning and caring for them a few times a year.
Always care for them after rides in the rain.
You should care for your daytona® boots especially after long rides in the rain. This is because the rain washes important substances out of the material and reduces the good properties.
Spray the zip every couple of weeks.
To ensure that the zip always slides smoothly when you put the boots on and take them off, you should spray the zip with Turbo Grease every couple of weeks.
Intense care
Cleaning the boots.
Remove dust and dirt with a cloth or a shoe brush that is not too hard. Caution: Do not remove dirt with a high pressure cleaner – that makes leather brittle. Compressed air can sometimes be used solely for the zip. If it is ­particularly dirty, just give it a short blow at the petrol station.
Care of boots.

Impregnation. For waterproof boots, we have already done a lot, but the boot needs the owner to add the finishing touches: regular impregnation helps to keep feet dry. This also makes the boots dirt-repellent. ­daytona® Aqua Stop is applied with the sponge supplied. Please wait for a day after application to give the leather time to absorb the Aqua Stop and for them to dry out properly. Then polish smooth leather with a soft cloth; for suede simply brush over again.
Care of leather. GORE-TEX boots require special care products that contain little oil to keep them breathable. For example, daytona® Special Leather cleaner, which is applied to the clean boot with a soft cloth.
Care of the zip. To ensure that the zip does not become a weak point, this also needs care. Turbo Grease from daytona® is simply sprayed on; this reduces abrasion and the zip remains smooth-running, durable and dirt-repellent.
Blacking leather. Scratches and scuffs in the leather can be made to disappear again with a quick black colour treatment. For this purpose, daytona® provides Leather Black in a tube with a sponge.

Extra care after rain.
On a trip in the rain, daytona® boots have a tough job: keeping your feet dry. In return, they appreciate extra care afterwards. Because wetness washes grease and colour out of the leather, making the material less water-repellent in the long run. That´s why an extra round of care is due immediately after drying – an extra round of care.

Drying boots.
Wet boots are best stuffed with newspaper or dried on a stretcher – at room temperature. Caution: Never dry boots on a heater or in direct sunlight. To dry, place the boots with the soles facing upwards so that the moisture between the layers can escape more easily.
Cleaning and brushing boots.
Make boots waterproof once more with daytona® Aqua Stop.
Simply apply evenly with the sponge on the bottle and leave to dry, preferably overnight.
Apply leather care.
If black leather is a bit faded, first apply daytona® Leather Black. Than apply daytona® Leather Care one day later, when the leather black has dried.
Spray zips with Turbo Grease.
GORE-TEX
The upper material of your boot with GORE-TEX is leather and should be treated as described above. Impregnate your boots regularly with daytona® Aqua Stop to reduce soaking of the leather.
Dry outer material keeps you warmer!
If your boots do get wet, place the boot with the sole facing upwards first so that the water between the lining and upper material can escape more easily. When caring for your boots with GORE-TEX equipment, use little oil-based agents as otherwise the breathability can be considerably reduced. We recommend the daytona® Special Leather Cleaner and Aqua Stop.