Evo Sports GTX
Safety shell technology for sport riders, waterproof and breathable. Unique and available only from daytona®.
Height of shaft: ca. 33 cm
Sizes: 36 - 49
With safety shell technology
Color: Black-Gunmetal / Black-Red / Black-Yellow / Black-Blue
Inner shoe
non-twisting polyamide hard shell
waterproof and breathable with GORE-TEX More Season Membrane (80 % polyamide, 20 % polyester)
strong hinge joint
shock-absorbing, wide latex foam cushions in calf and heel region
anatomic formed spherical heel bed
Outer shoe
full-grain water-repellent Nappa leather
shinbone protection with padding inside, removable with velcro
velcro fastener for different calf sizes
3M-Scotchlite reflector tucks on the side
elastic area at the heel for a better fit
reinforced gear change pad from abrasion resistant PU foam
plastic reinforced inner sole with a hot-dip galvanised steel inlay, that allows you to gently roll your feet
non-slip special rubber racing sole with rounded heels
replaceable abrasion resistance slider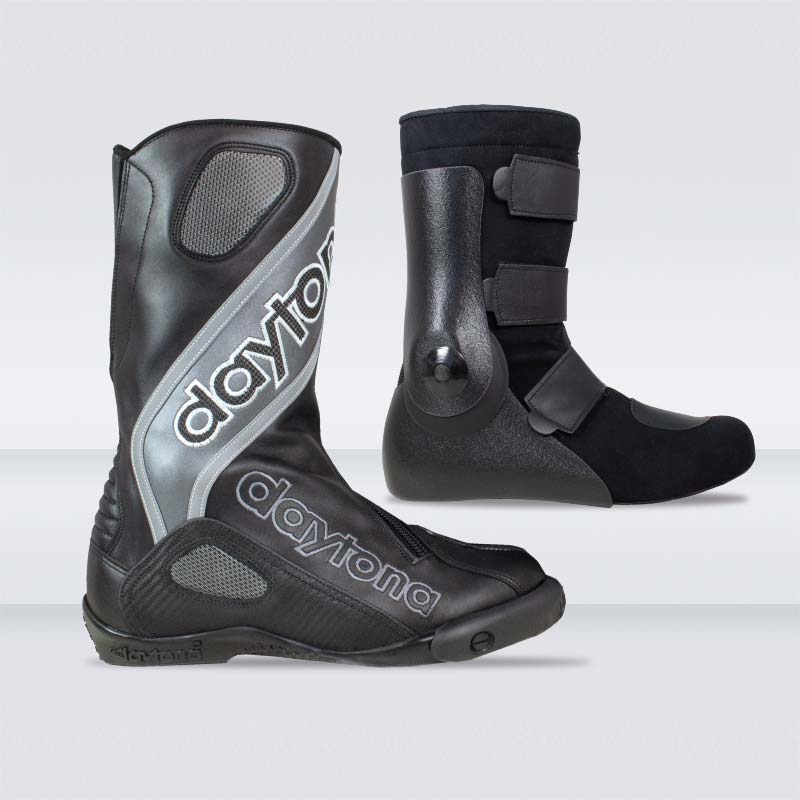 Awarded!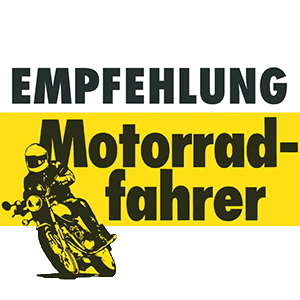 waterproof sportboots
8 boots tested
3 recommendations
issue 05/2013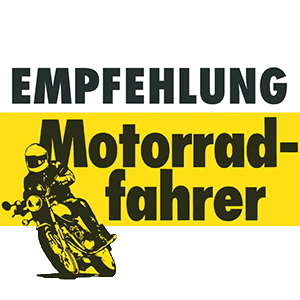 waterproof & secure
11 boots tested
3 recommendations
issue 03/2004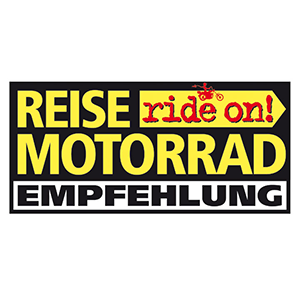 Test
20 boots tested
8 recommendations
issue 04/2004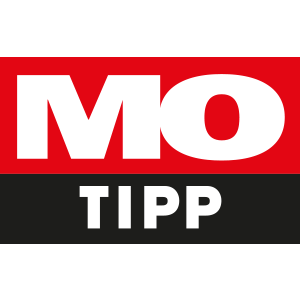 waterproof sportboots
13 boots tested
4× TIPP
issue 04/2004
What the trade press says:
61st award for daytona®: Evo Sports GTX® – the boot sets standards
Safe and dense? the issue of the testers from the magazine Motorradfahrer was with which they have examined eight sports boots on their qualities. It's been a recommendation for the Evo Sports GTX from daytona®.
The conclusions of the testers: The Daytona is the protection concept benchmarks - and despite hard (indoor) shell also very comfortable to wear .....
56th award for daytona®: MO-TIPP the magazine recommended Evo Sports GTX
They tested 13 waterproof sport-touring boots and looked more closely and undergo a functional test. The daytona Evo Sport GTX got a MO-TIPP.
Conclusion of the testers: Surprisingly comfortable sport boot in a class with the soft liner is very comfortable, although even reinforced in the heel with metal, very good in walking..
Water sports enthusiast with recommendation
Sports riders need boots that are as safe as possible for the race track. In the March 2004 issue of the magazine MOTORRADFAHRER investigated the question of whether safe boots cannot also be waterproof. For the Evo Sports GTX, this question could be answered with a clear yes and a recommendation.
Conclusion from MOTORRADFAHRER: Not cheap, but with the best safety equipment, good entry and a lot of comfort ... If you want to be on the safe side, you can hardly ignore the Evo Sports GTX.
Wetness test: MOTORRAD: very good
Wetness test: both test pairs absolutely tight! Plus: despite the inner shoe, it is easy and convenient to put on and take off; very flexible thanks to the joint in the ankle area; almost perfect protection for ankle, heel, shin and Achilles tendon; very good workmanship; high reaching membrane; very stable sole; comfortable cut. Minus: relatively difficult
Conclusion: a real racing boot with an absolutely waterproof GoreTex membrane. The high purchase price is put into perspective by the very good workmanship and the perfect accident protection. The test winner!
Boots suitable for touring
For everyone who wants a boot that lasts a long time and offers maximum safety. Another plus: replaceable wear parts, repair service.