Contest
Your experiences prove it:
Daytona® motorcycle boots are worth every cent!
Daytona® motorcycle boots have been around since 1973. During this time, many satisfied customers have written to us about how much they value the quality of their daytona® boots. Write us your story, e.g. how many years you have been on the road with your daytona boot, or how it has protected you from injury in the event of an accident, or simply your opinion on our products.
Or send us a picture of yourself or friends, out and about with a daytona® boot, on a tour, on vacation ...
---
Take part in the competition right away
---

We raffle a pair of Shorty from all submissions every month.
The current winner of the month:
I love them
Something always soaks through: Suit, gloves, cell phone - but the Daytona shoes always keep tight! I love them. Daytona was recommended to me at the time as the best brand for motorcyclists in the store. Now I'm looking at shoes for the supersport: it turns out, Daytona is again the recommendation of all. Only thing I do not understand: why are there no GTX inner shoes for the best 2 shoes? Wanted to buy me the Security G3, now it will probably "only" a Voltex GTX.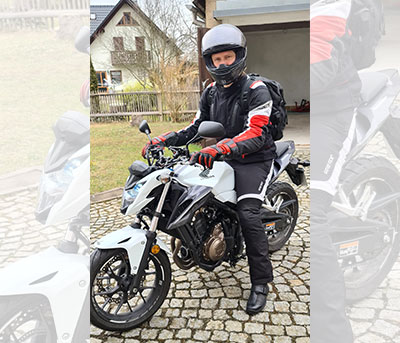 Stories with daytona®
Simply great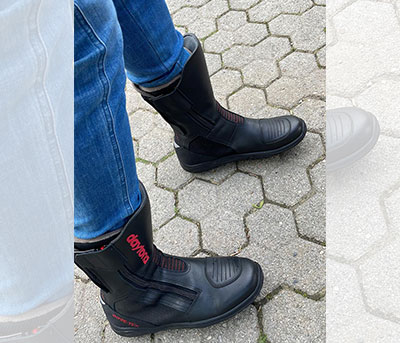 Nothing beats Daytona
I've been riding Daytona for 25 years, once Daytona always Daytona, there's nothing like it.

Me, my bike and daytonas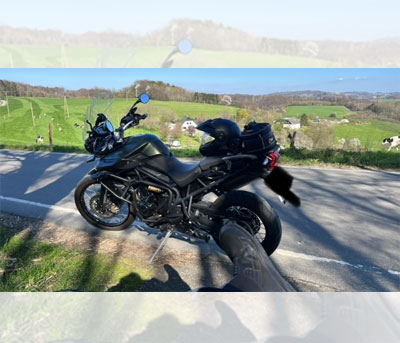 Motorcycle tour Carinthia, Slovenia and Italy.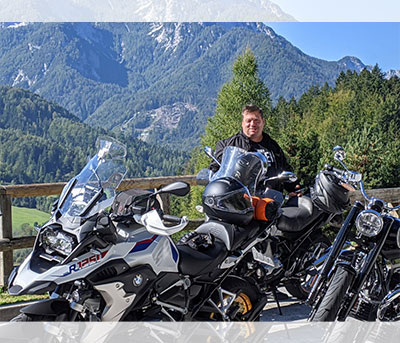 Very satisfied
I do not even know how long my Daytona motorcycle boots accompany me and clothe. It must be almost 20 years. Nevertheless, I still remember that I felt so comfortable directly at the fitting in the boots that others were out of the question. To this day, I am very happy with my decision.

Motorcycle tour Carinthia, Slovenia and Italy.

What a hammer - my first thought when I put on the shoe.
Actually, I was just looking for a new jacket and landed at some point at POLO in Wuppertal. Actually, several times, because I could not decide on a particular jacket. And as luck would have it, I was surprised between the visits times so right by the rain. Clothes tight, shoes wet, really wet. Is perhaps because they have been worn for 4 years and the price level was in the mid-range. The two zippers I had learned to love and so I asked when I bought my jacket, whether POLO can also offer shoes with two zippers. I was immediately shown the Daytona Boots Road Star. Initially put off by the price, I nevertheless tried them on. It was "love" from the first moment. Fits, is comfortable, does not press and should be durable. So still read up a bit in the store, bought and left on. From the first ride away just a great feeling. I'm glad I decided to buy.

Not to be topped, unbeatable, recommended
I have been a driving instructor for 20 years and bought cheap at the beginning, for 15 years I have been a Daytona addict. Quality, workmanship, service, there is no shoe manufacturer that can top this. I recommend every two-wheeler rider to buy Daytonas, preferably waterproof ones. That's not just a word with Daytona, it's a promise. Where other manufacturers call it that and then, when asked, rather meekly admit that they are just water-repellent or splash-proof, here the name is a promise. I have been holding training sessions for motorcycles for 20 years, and when I talk to them, it always turns out that Daytona is unbeatable. My recommendation: Daytona again and again. Thanks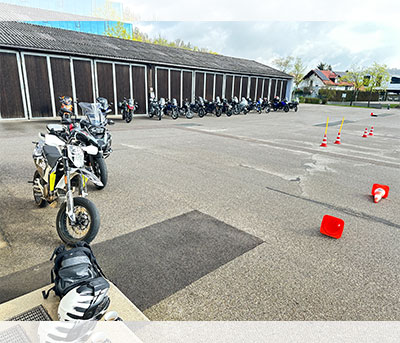 I thought I didn't need a Daytona. Wrong thought.
I have yet to Daytona experience, because until now I thought that most motorcycle boots are equally good. Unfortunately, I had to be taught otherwise ... I had a fall and broke the metatarsal of the little toe. Am now convinced that I would not have suffered this fracture with a better (eg a Daytona) boots. Therefore, I have now bought a Tourer (Road Star) - but a picture does not yet exist - and would be extremely happy about a Shorty.

Nothing presses, nothing pinches, driving is fun
I had these Daytona boots custom made myself at Daytona in late 2022. What a difference from the products off the shelf. Nothing presses, nothing pinches and the zipper closes without effort. This makes driving on the race track fun again. Many thanks to Daytona.
Always with Daytona
That was in 2006 at the "slurry pump meeting". Father and son, logically with Daytonas.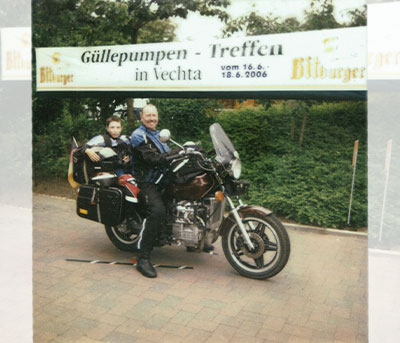 Well protected with Daytona
I have the racing boot with the carbon inner shoe. This has already saved me once from a serious injury. I came during a fall on the race track with the foot in the rim behind. I think with almost any other shoe I would have suffered serious injuries. With that of the Daytona nothing. In addition, I had the Daytona Arrow Sport GTX now 10 years, an absolutely awesome half boot. Unfortunately also broken after a fall, so that a repair is no longer worthwhile. Since I have very thick calves, I always have difficulty fitting motorcycle boots to get.

Satisfied at all times
The picture was taken on the tour "Grandes Alpes" with lighter Daytona boots. On the return trip through Switzerland, it rained and the boots have proven excellent that they are waterproof! Since my wife (She rides the red GS) and I want to be in the future even more often on longer tours, I have treated me a few days ago additionally a pair of "Travel Star GTX" and assume that I will also be satisfied with these boots at any time!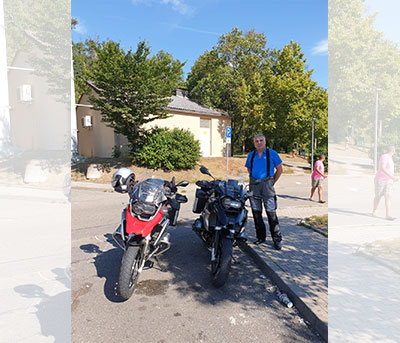 I thank my guardian angel and the people of Daytona
On vacation in Greece, I was on the road with a borrowed, not very familiar and also a little too heavy machine. In the process, I slipped off the path and grazed along a wall. Without those perfect boots, I would quite likely have suffered injuries and pain to my legs. Maybe bruises as well. I thank my guardian angel and the folks at Daytona who design good protective gear. This left me with the courage to get back on the bike because I experienced that things can end smoothly. Even more, I could laugh heartily when the shock subsided and I saw that neither I nor the machine had suffered any damage.

With rental motorcycle in Gran Canaria
And of course with Daytona.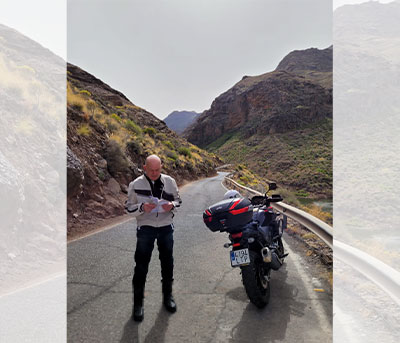 Here's to another 10 years of Daytona
For 10 years I now drive the Daytona Road Star GTX. Since I am off-road touring now increasingly on the road I have since short changed to the Trans Open GTX boots. On another 10 years with Daytona. The picture was taken on the Romania tour 2020. 60% offroad and here I realized that I needed an offroad boot.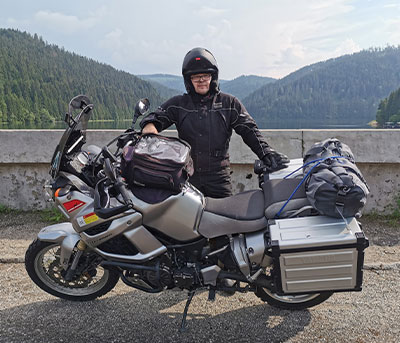 The best I've ever had.
My Daytona Burdits I have since 2017 and the have 90,000 km on the shoe and have come around in all of Europe. In Tuscany flooded in torrential rain, the boots full of water. Poured out and dried overnight in the hotel with the hair dryer. Perfectly dry the next day. These boots are the best I've ever had. They have never let me down. And you can ride horses with them too . :):):)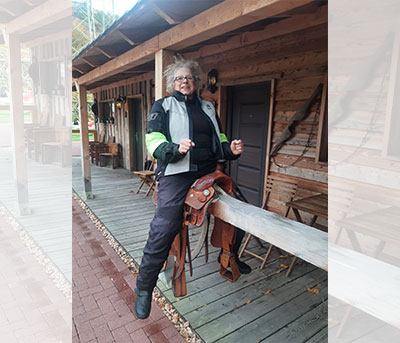 After 20 years still waterproof and perfect
Dear Daytona team, After over 20 years of riding the Evo Sports GTX - always the same pair - I recently treated myself to an upgrade to the Security Evo. I'm thrilled with how well the Evo Sports, despite not receiving any maintenance - has held up over the years. It is still waterproof, fits perfectly, and has only visual flaws. Velcro and zippers are all intact, sliders in place, basically it wouldn't have needed new boots at all. I wrote a short text about it on my blog www.motorprosa.com. See https://www.motorprosa.com/neue-stiefel-daytona-security-evo-g3/ Excited to see what I will experience with the new boots over the next 20 (or more?) years. Congratulations on your first-class products, and many greetings from South Tyrol! Jürgen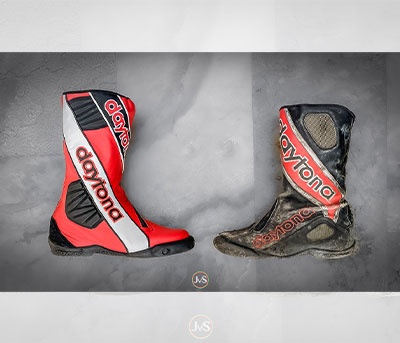 With the different widths I have found the perfect size for me
In 1991 I bought a SR 500. It was my first new motorcycle that I afforded. Along with it came a pair of new boots from Daytona. In the three decades I have ridden a wide variety of machines and covered a lot of miles in Europe and the USA. Only the boots have remained the same. But now I'm going into the new season with brand new "Road Star GTX". Super that you offer them in different widths. So I have found the perfect size for me quickly. The photo should have been taken in 2017 on the way to the Susten Pass.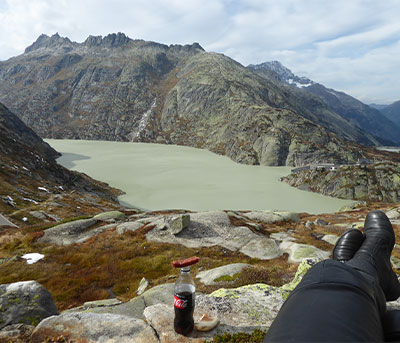 Nothing but Daytona, since 1988
I have been riding motorcycles since 1988 and have not had boots from any other manufacturer on my feet. Daytona is one of the few manufacturers that make motorcycle boots in size 50.

The best boots I have ever come across
I do not even know how long I have the already, in any case so long that these are no longer manufactured. But there is now the successor! Yes, my story began on 27.Dec '21: Oops, now I fell down and my ankle was broken. The full program was announced, surgery, pain and of course much, much swelling ☹ But my only thought was my moped and my associated Daytonas. Hopefully they will fit, hopefully my foot will go back in. And indeed 8 weeks after the surgery.... schwubdich... Bärbel in the basement and tried. I took several photos during this time but : "Hochlagern, you said". found the funniest! : ) Long story short, the fact is: the Daytona are the best boots that I have ever run across for motorcycling!!! For driving Ideal and when drinking coffee like Dappn (slippers). Please keep up the good work!!! With kind regards Bärbel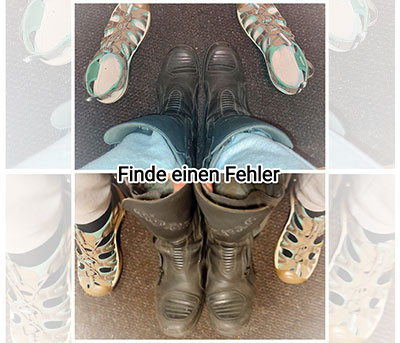 I love them
Something always soaks through: Suit, gloves, cell phone - but the Daytona shoes always keep tight! I love them. Daytona was recommended to me at the time as the best brand for motorcyclists in the store. Now I'm looking at shoes for the supersport: it turns out, Daytona is again the recommendation of all. Only thing I do not understand: why are there no GTX inner shoes for the best 2 shoes? Wanted to buy me the Security G3, now it will probably "only" a Voltex GTX.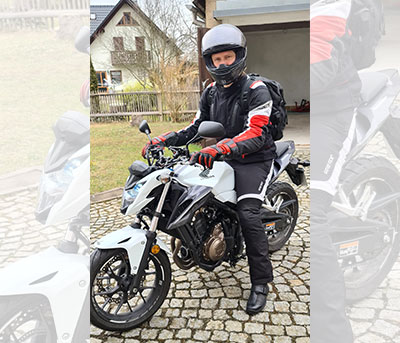 Thank you for the M-Star GTX
In May 2022 I let my son persuade me to buy a R 1200 GS, it was already lowered, but in Slovenia I laid under it in a parking lot. It was missing 2 cm on the gravel parking lot to avoid this. Due to this unpleasant event I had two options, sell vehicle or Daytona! I decided to test M-Star GTX. The test resulted, keep motorcycle and drive this vehicle only with these boots. Have since then a super sense of security on a super motorcycle. Thanks to Daytona for this opportunity.

We are super satisfied with the motorcycle boots
They offer the perfect combination of protection, comfort and style. The material is very high quality and durable. The boots are also waterproof, which means that we stay dry even when riding in the rain. Another big plus is the sole of the boots. It is slip resistant and provides good traction on wet or slippery surfaces. This is very important since we often ride on different road conditions. Motorcycle boots are one of the most important pieces of equipment for every enthusiastic biker, for every biker, so they must be perfect! And that is the case with daytona.

100,000 km, and still waterproof
Once Daytona, just more Daytona.

No matter how many motorcycle boots I still need in the life, it will be guaranteed DAYTONAs
After I had bought new Travel Star GTX boots, I have it but not brought over the heart to dispose of the old. These were me after 21 years and almost 90,000 km (including 11,500 very coarse km in Central America) but grown very close to my heart and actually still quite good - only some seams had opened. Did they then but sent to Eggenfelden for repair and got them back after a few days repaired at a very fair price and on the finest gewienert again. Do not look like new, but still after all these years very respectable and technically fully intact. I am thrilled!

Very satisfied
Hello Daytona Team, I have been riding motorcycles for about 35 years. My first boots were from Daytona. They lasted about 12 years. At that time, however, I did not know that they can be restored with you. After a very short detour to another manufacturer with, which I had no joy, I bought some again. These were provided after about 10 years by you with a new sole. With those I am still very satisfied on the road. Thank you


Best Service Ever
Dear Daytona team, so about quality, workmanship and safety has already been written so much, better I thought, it no longer goes. But now you have surpassed everything that has gone before. I had sent last week because of the new soling of my Spirit GTX 2 e-mails and got an immediate response with 3 possible solings. On Monday evening I sent the boots packed via DHL, on Thursday, same week, I get the info, the boots are on the way to me ... and today, Friday, same week the package arrived, can you do magic?, YES . Best Service Ever, that toppt not even the local cobbler and the result conjures a big smile on my face. Great praise and many thanks for it, I think must also necessarily times be said and written, because you can no longer find so.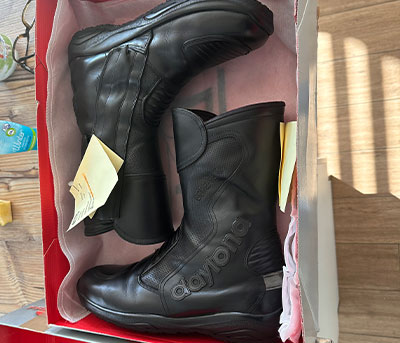 The boots leave a good impression even on the Baltic Sea beach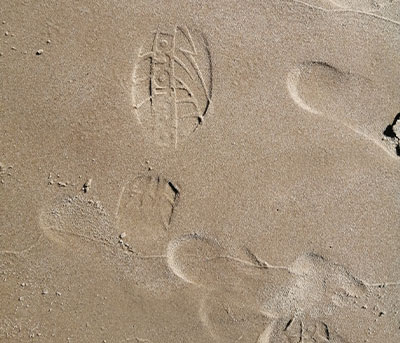 What a super service
After 20 years of Roadstar GTX my boots were a bit affected. Have you sent last week for repair. After a week you came back and look like new. Is this a super service. Have had the shift reinforcements redone. Best service here. THANKS


Fits like a second skin
Am now 42 years on the road with the two-wheeler, bought me 3 years ago my third pair of Daytona. Do not want anything else. And yes, I'm coming soon in Eggenfelden by. Since I bring my second pair to resole. Because Daytona fits like a second skin.

35 years old
My Daytonas are now about 35 years old. In addition in red. I think they don't exist like that anymore. Unfortunately, the leather is no longer so good. That's why I don't wear them anymore. But I do not give them away.


Many beautiful tours with Daytona
With Daytona motorcycle boots we have already experienced many beautiful tours with our bikes. They are a durable companion in any motorcycle situation.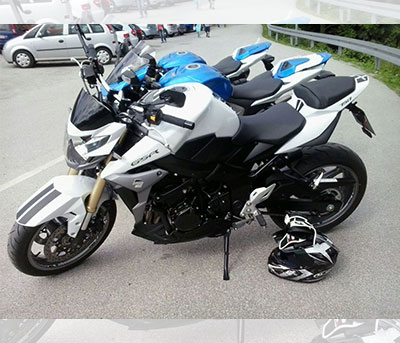 3 Brothers and Daytona
All 3 brothers on Corsica tour and everyone swears by Daytona Roadstar GTX. That says it all.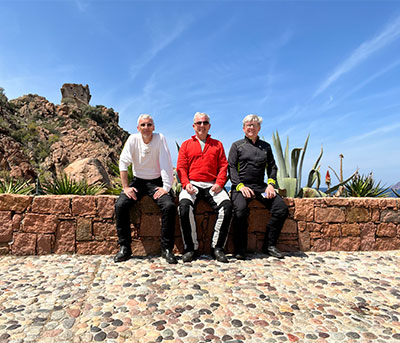 Newly in love and on the road with Daytonas
I was in June with my new girlfriend hot in love with Lake Garda motorcycle vacation, and although we knew each other then just 4 weeks, she made the 1200 km in 4 days easily with. The Daytona boots have certainly contributed to the fact that we could chill in Merano so casually in the wooden hammock. The boots were later also tested for waterproofness during a river crossing. Thanks to inner shoe everything no problem. XD Moritz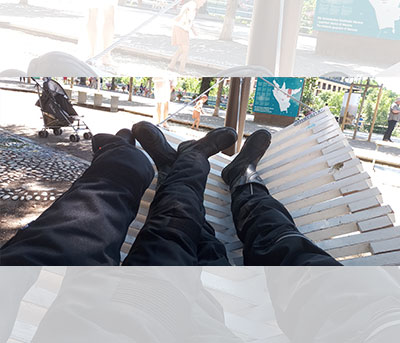 We are so looking forward to it
Unfortunately (still) no motorcycle season ... boots there, now it's time to wait for spring so they can do their job ... we love them already and look forward to beautiful rides with our "new".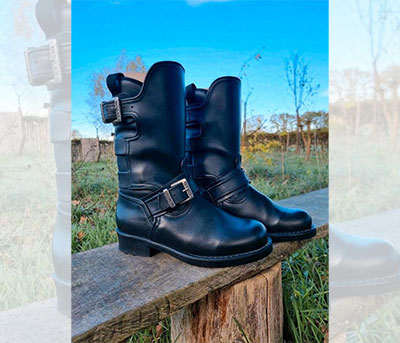 Daytona, again and again
Racing is dangerous, everyone knows that. That's why I've always trusted Daytona Security Evo. After various falls, Roy is now allowed to wear the boots in the showroom. Greetings, Robert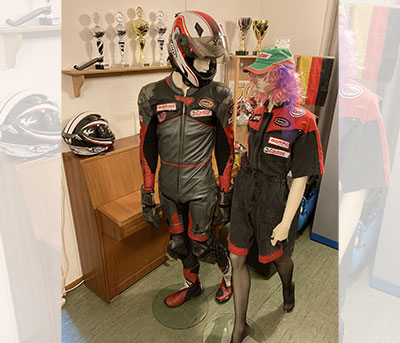 Daytona, again and again
This year the Motherroad was driven and my Daytona have not let me down. Absolutely great wearing comfort. Again and again.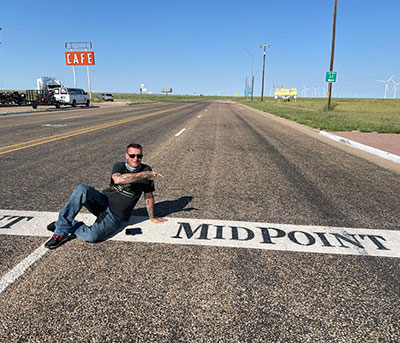 They also make the large sizes
One of the manufacturers of motorcycle boots with a shoe size over 48, so I have only had boots from FreyDaytona.


Top boots in any weather
On we go. Ready to go with freshly cleaned Daytona boots. The rain can come quietly, I'm well equipped with clothes and boots. Better, of course, when the sun comes, even then the boots do a top job.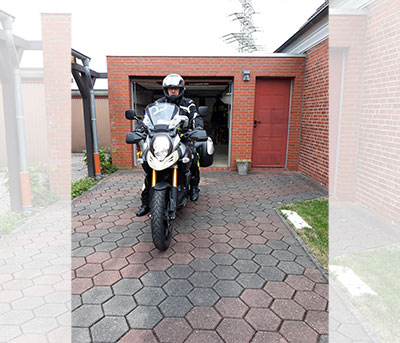 Absolutely top
Hello, for years my absolute favorite boots, even when it gets dirty and wet. Absolutely waterproof, speak from personal experience. Motorcycle dug in when driving through water, so first dismantle the case and bring it ashore, umpteen times back and forth through the water, remained absolutely dry :-) Disadvantage of my off-road footrests is that the soles wear out faster, but just the days again taken the repair service of Daytona and have them resoled. Greetings Ritchy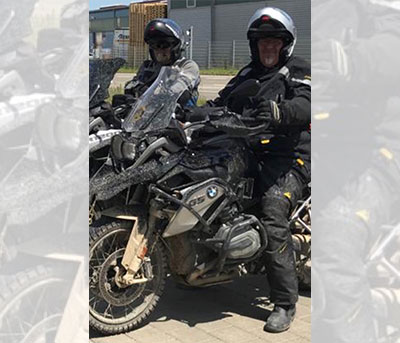 Safety and protection, comfort and good fit
Matthias D.

Still top after 150,000 km
Moin, I bought myself a pair of Daytona boots in 2010. I've driven so far about 150,000 km with it. Meanwhile, the soles are pretty worn, but the boots are still top! Therefore, I have now sent to Daytona for resole. The price I was quoted is fully acceptable. Hartmut Seeger


Daytona has exceeded all expectations
Originally I bought the Daytona Evo Sports only for the race track, but in the meantime they are also permanently established as boots for all tours. My other boots, of Italian origin, are now in the basement. With regard to repairs, all expectations - on the girlfriend's boots - were exceeded by far, we have never experienced such a fast and very good service before - many thanks for that, to the company and their employees!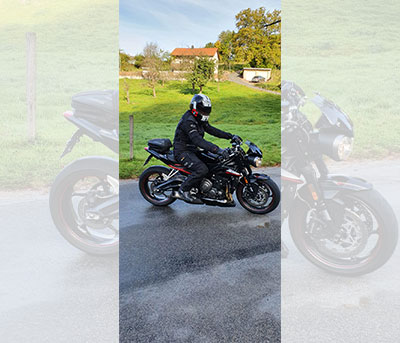 Feet dry, rest wet
2019 Lake Garda tour, shower every evening because wet from the inside out, my feet were always dry in the 30-year-old Road Star GTX! I think I'll give the boots an overhaul at your place soon. Left to greet Clint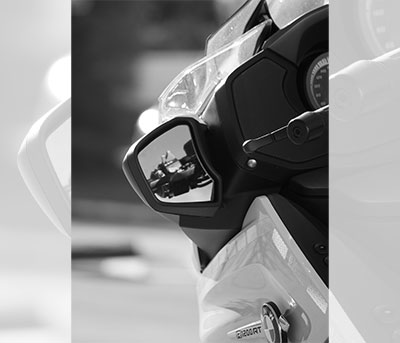 Others I would not even try on
Bought Daytona Road GTX in 1995, still dry feet today in 2022 in the worst weather (heavy thunderstorm at Wörthersee with ping pong ball-sized hail and blocked roads). The shoes still look like they came from the shop, except for the gearshift reinforcement that has crumbled over the years. Apart from Daytona, I wouldn't even try on any other shoe. I bought Daytona shoes for my son in the photo next to me. He too had dry feet. Thank you for this outstanding quality.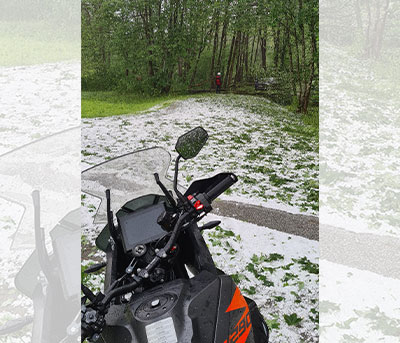 Continuous rain. Feet dry.
The tour was from Salzgitter to Templin to the "Bud Spencer & Terence Hill Festival". On the way there it had only rained, but thanks to the Daytona boots my feet stayed dry. Super boots, thanks to you. Greetings Dirk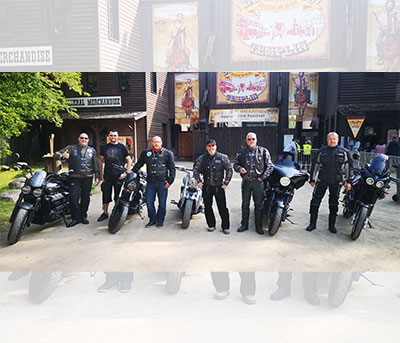 Safety and protection, comfort and good fit
Matthias D.

Faithful and reliable companions
Riding Daytona and Honda since 2004 and this season 2 weeks across Romania with my 2017 Africa Twin and your boots - faithful and reliable companions your boots. I am currently riding a pair of Highway GTX!!! Best thanks and greetings to the team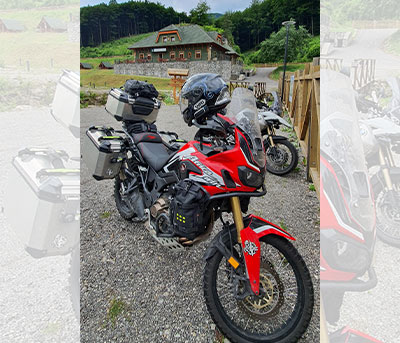 Bought the Daytona in 2015 and am still very happy with it!