Contest
Your experiences prove it:
Daytona® motorcycle boots are worth every cent!
Daytona® motorcycle boots have been around since 1973. During this time, many satisfied customers have written to us about how much they value the quality of their daytona® boots. Write us your story, e.g. how many years you have been on the road with your daytona boot, or how it has protected you from injury in the event of an accident, or simply your opinion on our products.
Or send us a picture of yourself or friends, out and about with a daytona® boot, on a tour, on vacation ...
---
Take part in the competition right away
---

We raffle a pair of Shorty from all submissions every month.
The current winner of the month:
I love them
Something always soaks through: Suit, gloves, cell phone - but the Daytona shoes always keep tight! I love them. Daytona was recommended to me at the time as the best brand for motorcyclists in the store. Now I'm looking at shoes for the supersport: it turns out, Daytona is again the recommendation of all. Only thing I do not understand: why are there no GTX inner shoes for the best 2 shoes? Wanted to buy me the Security G3, now it will probably "only" a Voltex GTX.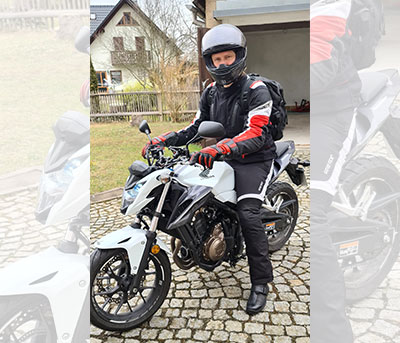 Stories with daytona®
After eight years of use, they are almost like new
Today, when the snow has melted away and the weather is getting warmer, I took out my mc-gear to see that all was fit for the upcoming first trip for the year. Then I came to think about when I put my Daytona boots away for the winter, I cleaned them and treated them with some Leather Care and after that I realised that still, after eight years of use, they are almost like new with only a bit of care. I remembered the first times I used my Daytona boots and the hughe difference from my earlier boots, they almost felt like rubberboots compared to the Daytonas. This really made me happy and I wrote an e-mail to the dealer who sold the Daytona boots to me, telling him how happy I was with them and that I will never go on a motorcycle with any other boots.
Thank you and best regards,
Henrik Åkesson, Sweden

Thanks Daytona quality no bone broken
I wanted to park my BMW R1150 GS on a parking strip with small paving stones and overlooked a depression (optical illusion). I tipped over and I did not bring my foot away in time. My foot was under the cylinder. Except for bruises, bruises and a thick foot (that's enough) everything remained intact. Two colleagues lifted the machine and freed me. The ankle was not broken and thanks to "Daytona quality" remained intact. Greetings
Uwe Braun, Germany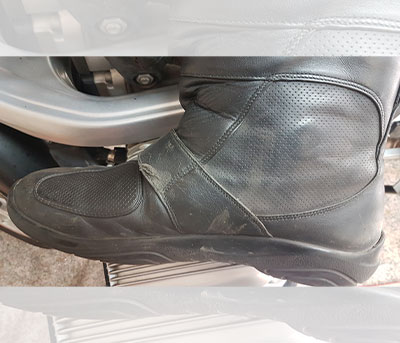 We are glad to have the Daytonas
After yet another long, hard and beautiful ride on our recent vacation in the Baltics, we found a place to stay for a well-deserved night's rest and are glad to be able to count on the quality of our Daytonas.... Harald Bannasch, Germany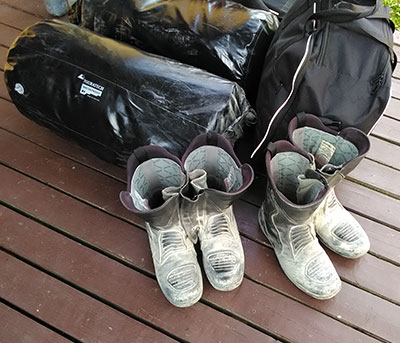 What other manufacturer offers this?
Hello Daytona Team, I own my Daytona Road Star GTX already since 1999 and they are for me still the best motorcycle boots. I also owe to this boot that my left ankle is still in tact, which could be fixed after a fall with a plate and 6 screws. In the photo you can see how the boots are sweating, just kidding, of course how the rider is sweating. I can only recommend these Daytona Road Star GTX (Made in Germany) and which other manufacturer offers a repair service??? Thank you and best regards
Günter Lange, Germany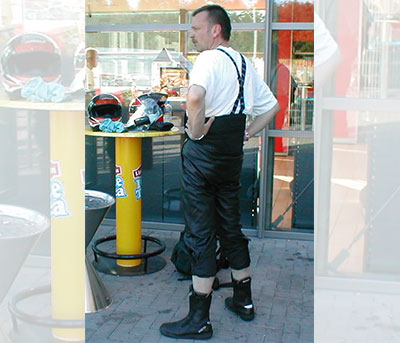 A cheer for these moped boots
On a beautiful hot summer day I wanted to drive with my GS just quickly in the village center. Thought to myself, that also works with sneakers!!! Said my wife to me: "The coincidence is e Äächhäsel (squirrel), zieh liewer dei Motorradstiwwel an". I listened to the best of all wives and she was right. At the next house corner, a car came towards me on my side, which I could only avoid by falling. My GS fell on my foot, which remained unharmed thanks to my GTX Roadstar, in my possession since 1991 :-)) cheers to these moped boots.
Roland Krupp, Germany

I have recommend many riders to these boots
Ive been wearing Daytona GTX Road Star boots for over 14 years covering some 200,000 miles in my 3 pairs. I have recommend many riders to these boots. Waterproof and very comfy. Daytona did make me a better gear shift pad as i find the stock ones peel and lift in usage also the underside of the soles wear bad when standing on spike pegs. But they did not manage to save my leg from a footage being pushed in a is was rear ended by fellow rider.The shaft needed to be higher than 29cm i also need a UK13 Wide fit boot so hoping that Daytona can help me soon...
Derek Cumbers, UK
With Daytona it goes on and on
Norway in the middle of May. On the way to Lysebotn. Suddenly snow on the road - but with Daytona on the feet it goes on and on!
Michael Haubrich, Germany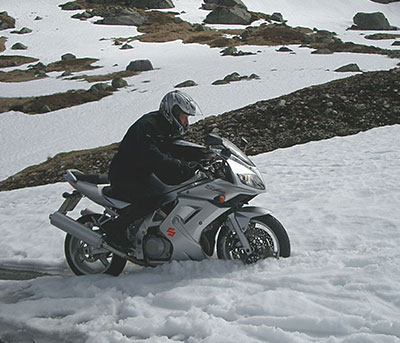 Brilliant
The 2020 season was a completely new start for me. New moped, new clothes, new boots :) I got the Lady Evoque, partly because of the elevation, which I think is brilliant! And despite a lot of protection, strong material and robustness, I can also run around the mountain with the boots (on holiday in the Vosges) or swing in the garden with my godchild. Daytona always go!
Dagmar Heltmann, Germany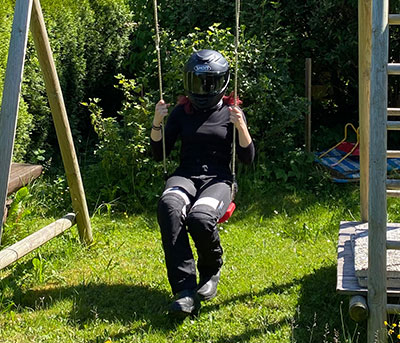 Back to Daytonas after a short detour.
My Daytonas: I bought them in 1994 and drove them until 2018, and only got rid of them in 2020. But by then they were really through. A short detour to Alpinestars and now I've ordered the latest Daytona Trans Open again. It was really cool to glide over the roads at 60km/h on the steel caps. That gave flying sparks at their best!!! :-) I'm sure I won't be as hard on the new ones .... great quality, thanks Daytona!
Ralf Homann, Germany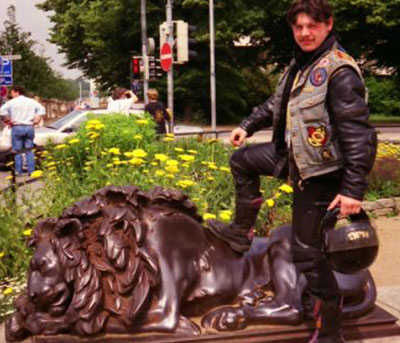 At the Erg Chebbi Morocco
Rainer Weiss, Germany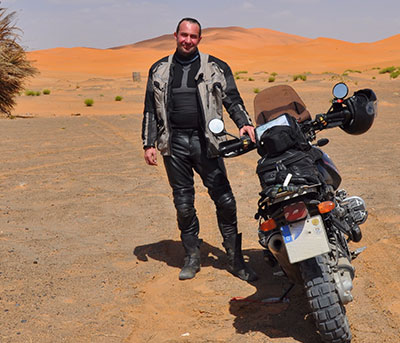 A boot I can rely on
Dear Daytona Team, on my rides I wear the Daytona Trans Open! A boot I can rely on, it is stable and yet comfortable, it is massive and can still be worn sometimes under the pant leg. And? He is tight, just tight without sweating!!! I am absolutely satisfied. Many greetings
Thomas Wiese, Germany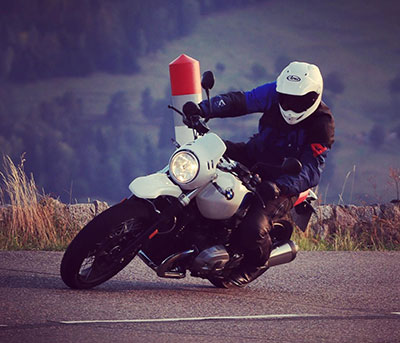 never another brand
i bought my burdit gtx boots 13 years ago.
i use them every day, in hot and freezing weather, dry and rain, hail and snow. to go to work and in the weekends private rides.
the fit perfectly and still 100% waterproof....
never another brand if i have to replace them.
W. Rietveld, Nederland

The ultimate
Long known to me, Daytona boots are the epitome of quality in motorcycle boots.
Petra Kluge, Germany


We are overjoyed
We have been looking for motorcycle boots to match our leather suit for a long time. In a Facebook group Daytona was recommended to us. So we ordered some, and lo and behold, finally some that fit with the pants.
Jessy Weidenbach, Germany

Only daytona
Due to my driving style and the different terrains my daytona Urban suffer a lot. When I asked if it was possible to attach grinders, a solution was quickly developed and attached. I no longer drive any other brand of boots! Oliver Wißner, Germany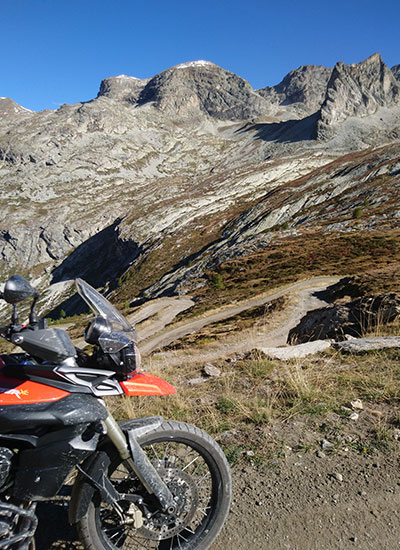 Wear parts replaced, boots like new
Dear Daytona team, I have worn Daytona boots for many years and I am convinced of the quality. But as with all things, nothing lasts forever.
That's why I recently sent in my boots to have the soles and gear reinforcements replaced and have just received them back.
After just under two weeks including shipping times! And the work was done perfectly, new soles and shift pads made as if the boots were out of production, not 'just' repaired! Super Service! Thank you very much, the new season can come. Best regards
Jens Kolbe

Vespa riding
... with daytona, of course.
Katerina Neureiterova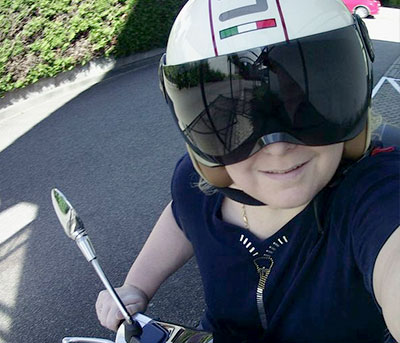 Very satisfied
I've been using the boots for 3 years now and I'm very satisfied.
Rene Stoldt

The best boots for the cold.
The Travel Star GTX, after trying it, I won't hesitate to buy the Lady Star Gtx for my partner, both for me and for her, I only want the best.
Eduard Garangou, Spain

They last all year round
I ride my 7 bikes to work all year round. 100 km every day. I rarely have to use the car. 3 to 10 days in winter maximum.
Noticeable: the boots and socks are the same all year round. But clothing is also used in autumn and winter. Sweater, winter jacket and long johns.
The boots hold out. Rain, salt, cold. Summer and winter always the good touring boots from Daytona. They are really exposed to everything that is nasty. And they keep you warm and tight. They are dirty. They are great too.
Thank you Daytona.
Guido Höhn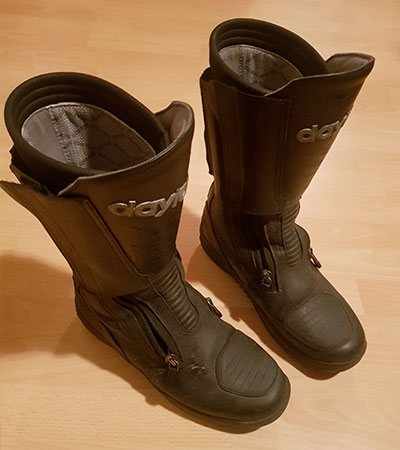 I am delighted with the quality
I have been using the Burdit in size since 2014. 45, who has already accompanied me to Lithuania, Poland, France, Austria, Italy and Switzerland.
I am enthusiastic about the quality and will now also get the Trans Open.
Thomas Tyborczyk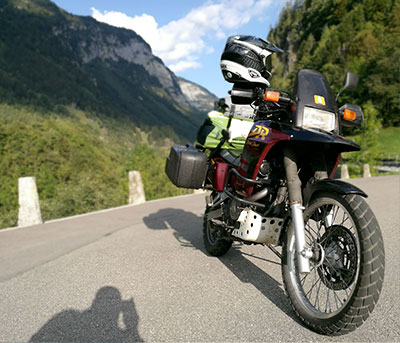 Fit and quality are right
I am an avowed cheat when it comes to moped boots, have tried something different every now and then and honestly have to admit that other manufacturers are not that bad ... but ... nevertheless I keep coming back to Daytona, my first ones have a new sole get and are simply TOP.
Fit and quality are right. Unfortunately, I have changed my feet in the last few years and my FIRST ones are a little bit pressure ... ergo a few new ones and which manufacturer has a model in different widths? Daytona, and that's exactly why I'll be driving it for as long as my current one.
Robert Kullmann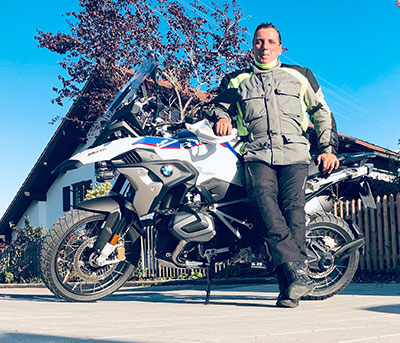 Waterproof, protective slippers
I bought my first pair of Roadstars four years ago, they have been used and abused for an average of 14 hours a day, 6 days a week. I have crashed in the boots twice (most recently at 60 mph when a car pulled out from a side road without looking). My feet have never been wet, sweaty or injured in these boots, hence ordering this second pair while my originals are being re-soled. The best, most comfortable and protective boots I have owned in 23 years of riding.
Steve Jones, United Kingdom

Prevented worse
I've been driving my Daytona Road Star GTX for 12 years and they're still in good shape. As before, they are waterproof and even longer walking distances have never been a problem with them. Almost a hiking boot ;-).
I think they saved my right foot on my motorcycle vacation in Crete last year. During an emergency stop, the borrowed motorcycle without ABS starts to lurch and hit the asphalt with my right foot so hard that it hurt my outer instep for a few days. I am sure that without the built-in steel insert, it would not have gone so lightly for my foot.
I can recommend Daytona with a clear conscience and my next boot will definitely be a Daytona again. Keep up the good work and best regards,
Thomas Pawelczyk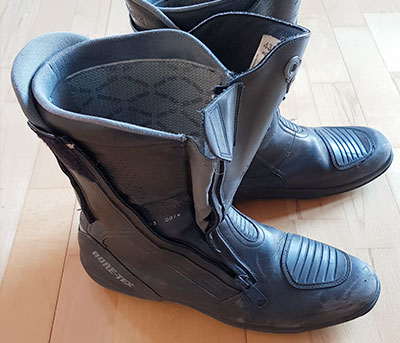 The best boot ever
Daytona XCR Shorty.
I've been riding this boot for almost 10 years.
I still say today that for me this boot is the best boot ever. Comfortable, robust, safe and the processing absolutely TOP!
It was used on various motorcycles and now, after some abstinence, on a Vespa GTS Notte. Thank you Daytona ;-)
Stefan Möhring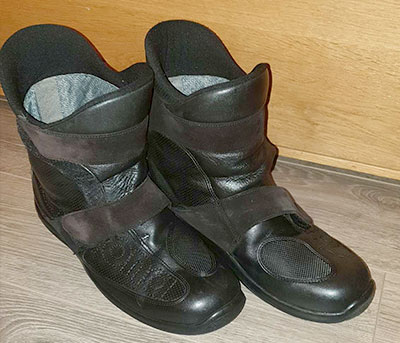 Outstanding
Just recieved my boots back from repair at Daytona and they are outstanding, although twenty years old they have come back looking and, more importantly, performing as new.
Such a delight to deal with a company who hold such high standards of craftsmanship and customer service in such high regards. Thank you so much from a very happy customer.
Timothy Gowthorpe, United Kingdom

Well recovered
The right of way was taken from my Vespa.
Result: total loss ... but my health recovered after 3/4 year.
Katerina Neureiter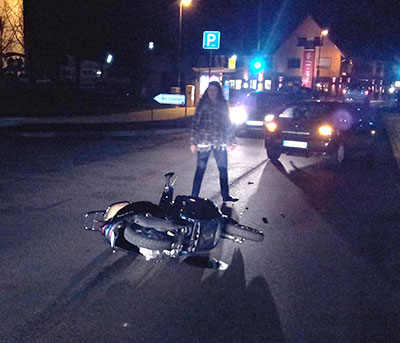 15 years old, permanently rainproof
4 weeks ago I drove about 600 km home from South Tyrol in pouring continuous rain.
Thanks to my 15-year-old Daytonas, I had salt-dry and warm Fussala (for Preussen: feet).
I don't need to say more about the quality. :-)
Bernhard Prockl

Special ventilation
I've been riding motorcycles again since the 2000s. Daytona boots throughout ...! Wonderful.
On this year's summer tour through the Black Forest at temperatures of up to 37 degrees (!!!) I had to work out a "special ventilation" for my boots to give the bubble created by extreme heat "air"! So I'm definitely ready for a new daytona boot!
With best regards from a satisfied customer ...
Hp Brandt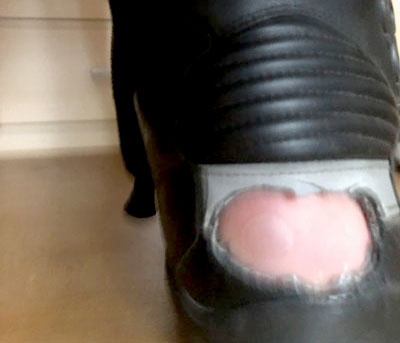 Fit and comfort unmatched, always 100% waterproof
I've been riding a motorcycle since 1978. I've been wearing Daytona boots since 1985.
The first pair was the predecessor of the M-Star GTX. Later came the high Trans Open GTX and currently the Touring Star. You can tell that I can't be dissatisfied with Daytona boots. Why? Because the fit and comfort are unmatched for me and the boots have always been 100% waterproof.
Back then, with my first boots, I drove up with a friend from the Austrian Ötztal towards Kühtai. It was really hot that day. In the middle of it halfway in the mountains a torrent came tumbling down. The machines were just as hot as the drivers. I turned right, the machine turned off, my clothes and helmet down and into the stream - just put my boots in the water. GORGEOUS. A wonderful cool down.
My buddy joked that my feet were now nice and wet. Far from it - feet stayed dry (apart from sweat).
My friend was so convinced at the time that he bought Daytona boots at the very next opportunity. He groaned a bit about the price, but he still drives Daytona today. your
J. Wasmann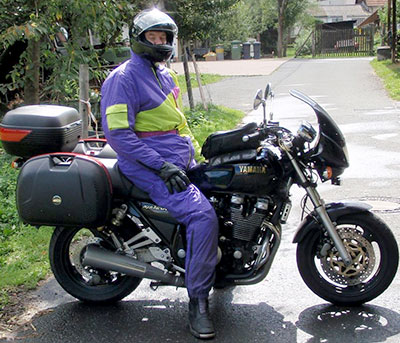 Always loyal and reliable
A warm welcome to all Daytona employees. The short story for the picture.
South Tyrol September 2020. The two, united for 35 years. On the road 198,000 km with this motorcycle and always faithfully and reliably accompanied by Daytona footwear. You, my girl, is the best social partner in the world.
Greetings to Eggenfelden.
Manfred Hauber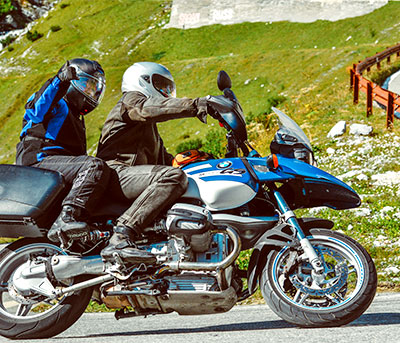 Emotions and memories
The looks stick to my feet in motorcycle boots for a long time.
As if these boots were telling stories.
Beate Grabenmeier

A motorcycle life with Daytona
I've been riding Daytona boots all my motorcycle life, since 1979.
These have already saved me from serious injuries.
For me, Daytona boots are the best boots on the market and Made in Germany, what more could you ask for? :-)
Uwe Ramler

These are the right ones!
I use these boots when I know I'm venturing into bad weather! Even if the weather turns out good I'm happy I wore them that day!
My latest trip should've been to the Alps but obviously that was cancelled, so I headed to the Scottish Highlands instead.
100% comfort, 100% waterproof and 100% warm!
If a woman ever needed just pair one pair of shoes THESE ARE THE ONES!! Perfect!!
Danke Daytona! Xx
Jane Robinson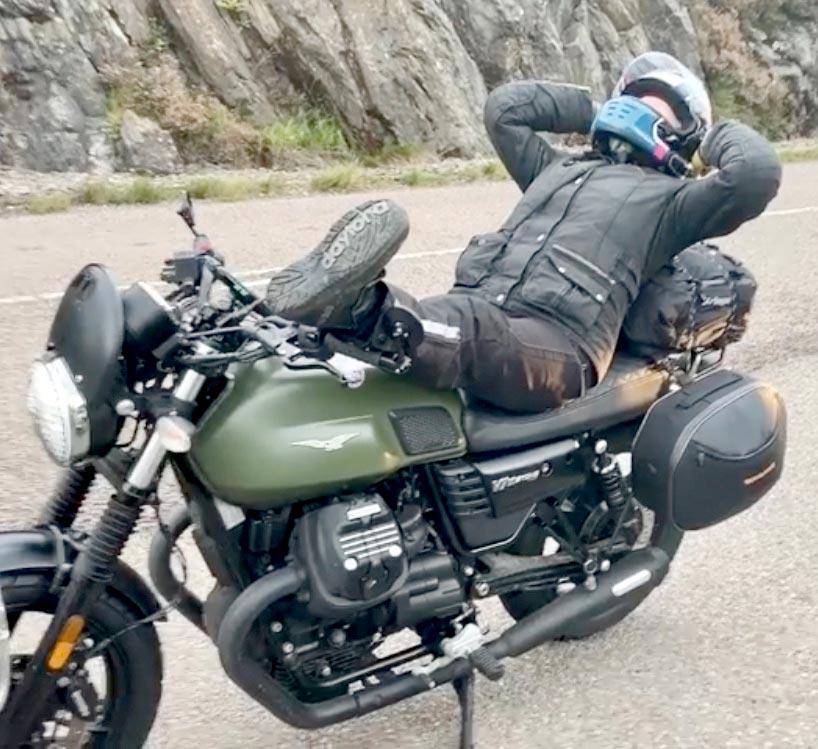 Women's boots at the highest level
With a raised sole, I also fit motorcycles that are actually too high.
Compliments to the company. Good work.
Monika Rombach

Absolute recommendation - they just last too long for the money
Switching reinforcement renewed after 10 years.
Sole renewed after 12 years. The sole itself is great and not worn out yet. I had something hot on my foot, so it was renewed.
Always well done. They just last too long for the money.
Good summer and winter boots.
Rudi Rombach

Always great fun
On the road with daytona and the Quad is always great fun.
Ines Köhler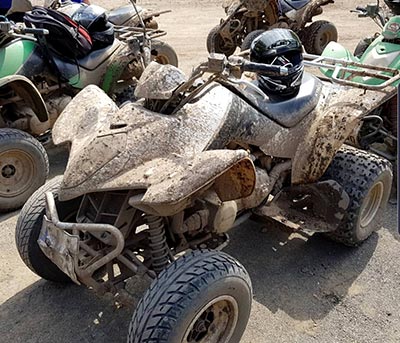 Worth every cent
I have been riding my Touring S since 2011! Was a lot of money back then, but the boots are worth every cent! I think I can judge that, I ride between 10 and 15 TKM every year. They are still tight and have never let me down!
Heinz Kessebohm, Germany

25 Years, 300.000 km, any weather
Hello, I want to tell you a positive story about Daytona goretex road star.
I've owned them for more than 25 years, they have followed me for more than 300.000 km all over Europe, mostly in Scandinavia with the rough weather, such as sun, rain, show and mud, as a part of the game.
They've always kept my feet dry and warm and always felt very comfy to wear.
Though they are no beautys any more and despite of the missing gear pad, I'm still looking forward to every ride we have together, the old boots and I....
September I will go for a ride in Norway, and it's so nice not to worry about wet and cold feet.
Thank you Daytona
Best regards
Frank Horsøe, happy Daytona owner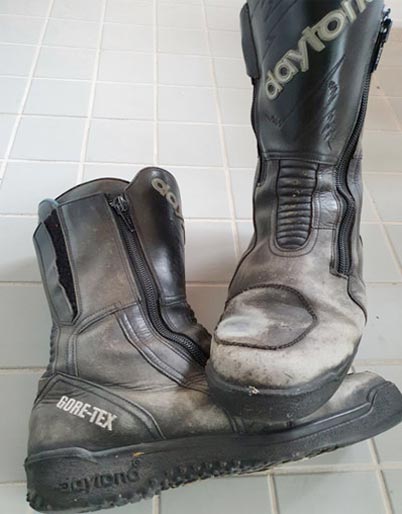 Simply brilliant all round
After buying a used pair of Daytona boots I was so impressed with the build quality, comfort and secure feeling they gave me I bought my wife and myself a new pair of Gts boots. Simply brilliant all round.
Timothy Gowthorpe, United Kingdom

Relaxed on tour with daytona
Ingo Fischer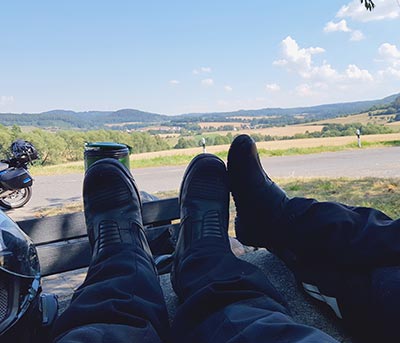 The boots held everything off
You often see it at motorcycle races. It happened to me after 40 years. Motorbike with an H license plate, I got a fright, emergency braking, then the memory only starts again when I slide across the road behind the bike. All motorists did not brake and did not roll over me. I am grateful. Later, bruises everywhere and a kind of whole-body muscle ache. Protective clothing deserves the name. The boots held everything off, but then looked more worthy of repair in my opinion. Could work again after two days and bought new Daytonas right away. I'm convinced that without Daytona I wouldn't have gotten up after the accident. The bike rolled over several times and I could always see it when I had just turned in that direction. But from the impact on the road and where my feet were with it, I know nothing until today. I still rode with the accident boots and other bike until the weather improved. Everything only optical defects and not nice anymore. But the new boots look much better. Best regards Guido
Höhn, Germany

16 years in permanent use
Since 2004 I have owned a pair of Roadstar GTX. Since then, they have covered more than 40,000 km with me on motorcycles and many kilometres on foot, accompanying me on my travels and the daily commute to work in really any weather. I really don't count as a fair weather rider and use my 2-wheeler all year round, from blazing heat to heavy rain with hail, snowfall and black ice at -5°C everything was already there. The Daytona Roadstar GTX has always protected me perfectly and kept my feet safe and dry. Time and effort have left their mark. But it took about ten years before the rubber started to get brittle, and then the gear shift reinforcements took their leave, which is of course partly due to the many hours of walking in the company. Because of the many ascents and descents, the left boot has been put under more strain, since I always make a slight turn with my left leg, which naturally wears the sole out. Last year the first leaks occurred in these places when I walk through puddles. Although the boot has certainly come into contact with several litres of sweat, I am astonished to find that it always smells pleasantly after Daytona leather care, even inside. I would like to thank you for this fabulous product of your work!
Robert Sittinger, Austria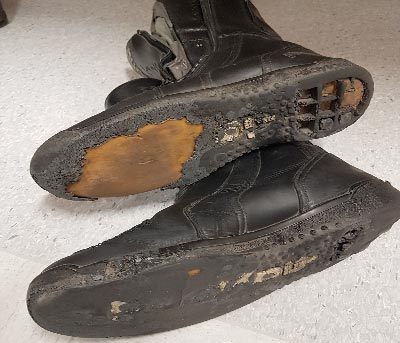 I had luck and daytonas.
ROAD TRAVEL GTX Part 1 - Friday afternoon:
Spanish side of the Pyrenees just before the Atlantic Ocean in 2014 I wanted to stop, but the ground on which I put my foot was made of tennis ball sized stones. The BMW slipped away from me and I lay down on the side. I couldn't get my left foot out from under the suitcase and it hurt like hell. The friends came to help quickly and soon the 45 KM to the accommodation near Biarritz could be unwound. Shifting was already a little bit difficult.
Saturday: Loading the machines and 1700 KM home in the Bulli. A few painkillers and a forgotten pilgrim's stick made the trip bearable.
Sunday morning: We are back home. My wife and son are waiting for me with a pair of crutches. A cup of coffee and off to the hospital in Lemgo. The ankle was broken. Admission with many reproaches because of the delayed treatment. Something about "compartment syndrome" and "getting lucky again" makes you think. Wednesday: The swelling has gone down and a plaster cast is put on the leg. The good man in the cast says, "Well, Daytona boots?" When asked, he tells me that he is a motorcyclist himself and has already plastered so many legs that he can match the protective equipment to the injury pattern and I have been very lucky. Everything will be fine.
Part 2 - Monday evening, 17:45: We are invited to a barbecue at a friend's house. Dark clouds come up and it suddenly starts to rain. The little creek next to our house rises alarmingly. Cancel the barbecue, put on an old pair of motorcycle pants, the waterproof jacket and the tried and tested Daytona motorcycle boots. Off to the outside and save what can be saved. None of this has helped. The water came into the house through the yard door and the front door. The floors broken, the walls damp, the garden gone. The damage could be kept within "limits" (five digits), because the family and many great neighbours helped. The motorcycle boots were of course full and glued with fine clay. After a thorough cleaning they work again. Everything is fine again.
Part 3 - Winter 2020/21: I will send the boots for repair. Meanwhile they can use a bit more profile and they are not that tight anymore, but who is. That was my boot story. Greeting to all Eckhard Scholtissek, Germany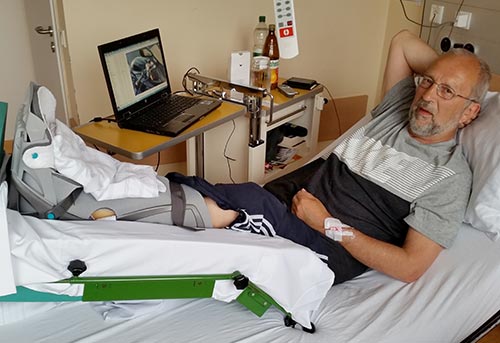 Inspiring
I never knew Daytona before.
When I tried these on in the store, I was so excited that I immediately bought them and told my oldest son about it. He tried them on too, so his next boots will be Daytona too.
Joachim Alexander, Germany

I can't find anything to be dissatisfied with
At the driving school I had an accident and got my foot under the bike. The result was a few weeks of crutches and the realization that hiking boots are not the best motorcycle boots. However, with my first Daytona boots I was given the wrong advice and bought too big, so walking in them despite double soles was torture. But I didn't want to miss the quality of the boots anymore and bought new ones. I think these are shortys. I can't find anything to be dissatisfied with. Completely waterproof even after many miles. With warm socks I haven't even had cold feet, even though the grades are slipping towards zero - the mountains in Norway can be quite cold even in summer. Even when the thermometer shows midsummer, I still have the feeling that the shoes are breathing.
My husband has bought the same shoes and will now try to have the soles replaced, his offroad footrests are somehow eating Holes in it.
The picture shows the condition of the boot after a somewhat unexpectedly appearing gravel road in Russia - with deep water holes across the road after nightly rain. No problem, now they look like new again!
Doreen Johnsen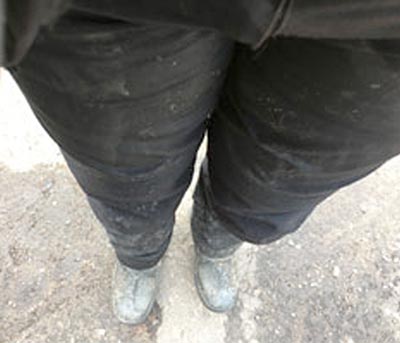 It doesn't get any better than this
Hello everyone, I had my left boot for repair. Renewed, the switching amplification was renewed. Within a week I had both boots again, the left boot was super repaired and both boots optically upgraded. It does not get better. Thanks a lot!
Michael Reader

They age but stay young like us
The years pass and they age due to wear and tear, but the interior remains as young as we are.
[Catalan]: Els anys passen i envelleixen per el desgast, però l'interior es manté jove com nosaltres.
Eduard Garangou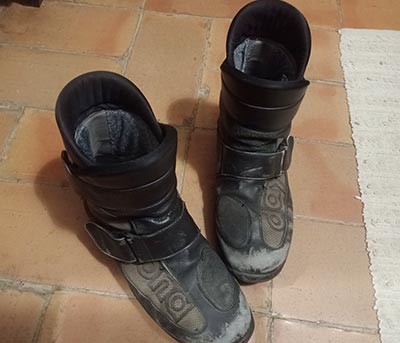 Always your boots
I sent a picture that does not bring back nice memories to me, but I wore sensible clothes, including the Daytona Road Star, all leather clothes protected me, not least the boot that kept my feet and shins unharmed. As long as I ride a motorcycle (I already had a new one at the end of 2017) I will only wear leather as always and your boots again and again. Thanks for your excellent product. Greeting, Norbert Rudolph, Germany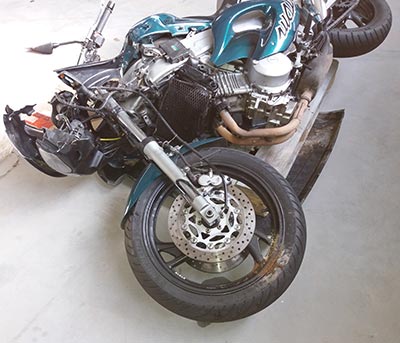 Probably the best boot there is
I have had a Gore-Tex boot of another brand for over 20 years. And I was actually satisfied with it - waterproof and very comfortable. But over the last few years the Gore-Tex insole has worn out and I had to look for a pair of new boots. I tried several of them, but it wasn't until I got the Daytona Road Star GTX that I was convinced: These should be the ones. Perfect fit, pleasant, comfortable. I look forward to a new 20 years with probably the best boots available.
Kim Kongstad, Denmark