Contest
Your experiences prove it:
Daytona® motorcycle boots are worth every cent!
Daytona® motorcycle boots have been around since 1973. During this time, many satisfied customers have written to us about how much they value the quality of their daytona® boots. Write us your story, e.g. how many years you have been on the road with your daytona boot, or how it has protected you from injury in the event of an accident, or simply your opinion on our products.
Or send us a picture of yourself or friends, out and about with a daytona® boot, on a tour, on vacation ...
---
Take part in the competition right away
---

We raffle a pair of Shorty from all submissions every month.
The current winner of the month:
I love them
Something always soaks through: Suit, gloves, cell phone - but the Daytona shoes always keep tight! I love them. Daytona was recommended to me at the time as the best brand for motorcyclists in the store. Now I'm looking at shoes for the supersport: it turns out, Daytona is again the recommendation of all. Only thing I do not understand: why are there no GTX inner shoes for the best 2 shoes? Wanted to buy me the Security G3, now it will probably "only" a Voltex GTX.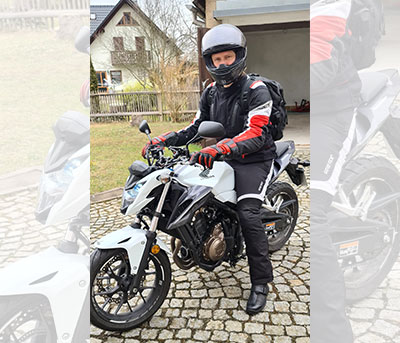 Stories with daytona®
Combi through, gloves tattered, boots have held
I bought the boots more than 20 years ago, they have been my faithful companions until today. Unfortunately, they also took a few falls and protected me when the machine was still lying on its leg and we slid metres over the asphalt. But the most striking event was when we were on the Nürnburgring Grand Prix circuit and the machine slipped away from me at about 180 km/h at the end of the Schuhmacher-S. The station wagon was torn through, the gloves tattered, but the boot held. Now I bought new Daytonas and with heavy hearts I took off my old boot.
Markus Brügger, Germany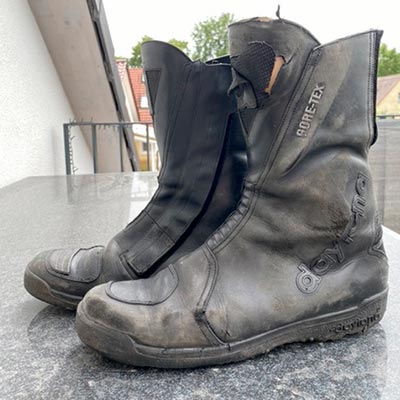 Never disappointed
I have been driving Daytona GTX touring boots for many years. I have never been disappointed. You don't buy quality so often in life! Here in any case really good service!
Olaf Maack, Germany

Quality connects
I got my first Daytona boots when I was 17 (that was 1977), and now our little one gets her new Daytona at 16. Combining quality, reliability and durability, it's CLARENT !!
Bert Schwaiger, Germany

daytona for sure!
I've had these shoes for years. I can only recommend it. For me a sureshot.
Norbert Meirowsky, Germany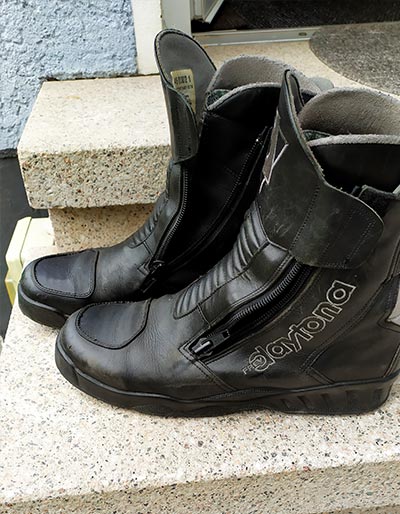 They work perfectly
I have two pairs of Daytona boots, the arrow sport gtx and the classic trans open gtx. They work perfectly for different applications (on road/off road). However they are perfectly suitable for taking the place of each other if need-be. Just a testament to how versatile and well made these boots are.
Peter Jones, United States

About 40 years old. Like new.
I got the boots from my grandfather for the driving school, he used to drive a BMW and bought the boots in 1980. And look, they still look like new! Good workmanship and good care. With my own driving licence I would be happy about my own boots. PS maybe you can tell me as a manufacturer from when the boots are.
André Sievers, Germany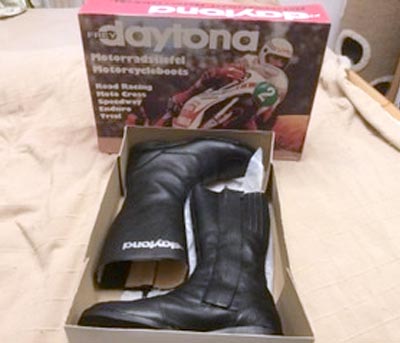 I am happy again
Hi there, First I thought that my 2nd gener of Daytonas don't fit me, because they did hirt the achilles on the left foot. But after wearing 2nd time with woollen socks everything is ok. and I am happy again!
Rainer Oesch, Finland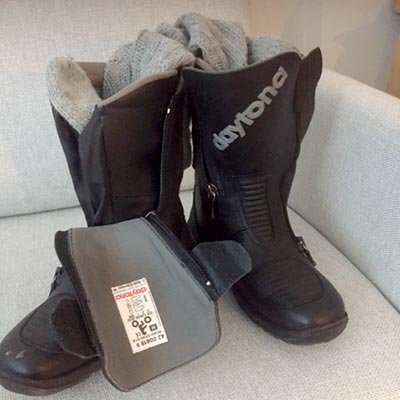 I can justify the price of the quality though
I've been chasing daytona boots about 2 years. Never could afford or prioritise buying new. I can justify the price of the quality though. I bought a pair off ebay but they were quite bad condition (photos showed bit of damaged but I hoped for best), leather was streched, damaged, boots worn out and hole in the sole. Also had a second hand size 43 what I couldn't wear at all. And another second hand size 43 hoping that Evo sports boot will let me squeeze in. No, it didn't.. never could get my size in a decent condition. Regardless I provided my best care for them same as the maker of the boot gave the love they deserve.
Kris Kronis, London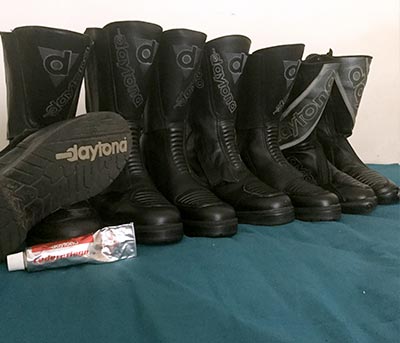 Daytona forever
Some motorcycles may come and go. My Daytonas stay. - For over 250,000 miles they'll follow me...
Andreas Thier, Germany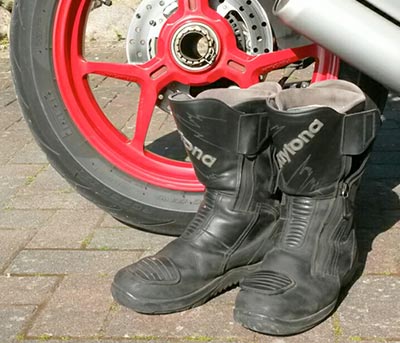 Perfectly equipped
To drive over the Timmelsjoch is always a great experience.
With the Daytona Trans Open GTX you are perfectly equipped for such tours.
Peter Lintner, Germany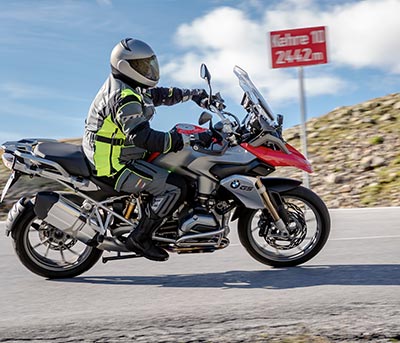 You definitely get what you pay for
The only boots I will buy and the only company I trust to deliver exceptional craftspersonship. No other company or boots come close. You definitely get what you pay for here, guaranteed.
Andrew Millard, United Kingdom

A perfect fit
Even though the Strive GTX belongs to the sport boots and I drive a travel enduro - I fell in love with this boot instantly.
I saw it in the shop and I had to have it. The fit is perfect and it defies all weather. Wet feet on long tours are a thing of the past.
By now he is 5 years old and he has seen a good 70.000, but leather and sole are still without defects. Only the Velcro is giving up so slowly, so he goes to daytona for repairs in autumn.
Many greetings to the daytona team,
Thomas Klems, Germany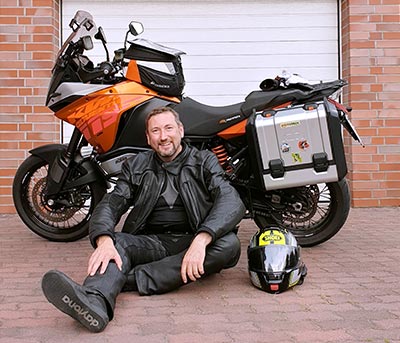 Shoes for all occasions!
I bought my Daytona MOTO FUN in 2004. I really wanted these shoes and at that time I was still arguing with another customer about the shoes, although they were actually a size too big for me. What doesn't "woman" do for the last pair of shoes in the store? To this day they are faithful companions in all "situations in life", whether as leisure shoes, when riding a motorcycle in the city, during renovation work or now, as garden shoes. They are simply not to be taken down!
Sandra Bessler, Germany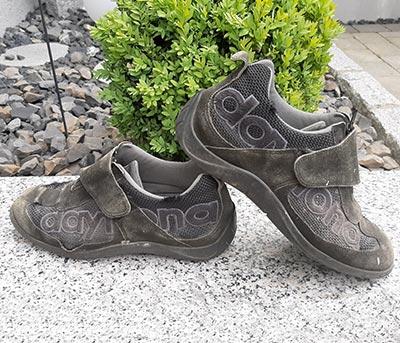 My Daytona boots got me through
Back in 2016 in New Zealand I decided to climb Ben Lomond in full motorcycle gear because I had no place to store my gear. It was amazing, my pair of Daytona boots got me through this and the rest of my time there. They still serve me well to this day!
Martijn Joosten, Netherlands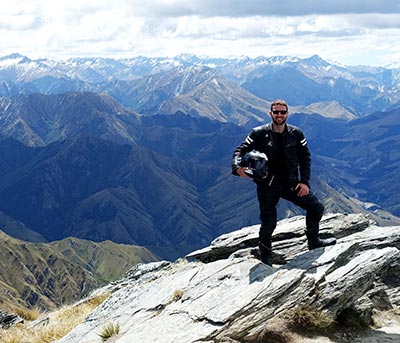 Many thousands of kilometres, all is well
My wife and I have been driving Daytona boots for a dozen years. Currently the Traveller GTX and Highway. The highway will have to give way to the Transtourman. Repair service always tops. The boots are waterproof even after many thousands of kilometers as if they were new. On big tours like in Morocco with water crossings and heavy rain always a reliable partner for dry feet. Many greetings
Klaus Hartl, Germany
Every Day Boots
Works great for commuting every day no mater what the weather. All day comfort is a big plus in my book, feels like I'm wearing slippers all day.
Peter Jones, United States

I can always trust my boots
I wear my Daytona Arrow Sport GTX boots to work every day. I work in the medical field in a laboratory. During this Covid-19 pandemic motorcycling has been a great gateway to take my mind off the troubles of the day. I can always trust my boots to keep my feet warm and dry on the cold spring morning in Montana and also be cool enough when it warms up when I go home from work. The comfort and quality has always surpassed expectations. Always love slipping my boots on before I head to work.
Peter Jones, United States

Quality has its price and that is a good thing
1978, the first Daytona were taken over from my brother, but unfortunately the type designation is no longer known to me. Had however the heel red set off. Over the many journeys always sovereign and reliable. After many (unfortunately) attempts I always came back to Daytona. Quality has its price and that is good. At present I drive the Shorty. Also already well 4 years. Never had problems, always close in the rain and cool in summer. The left one as a greeting an old fan of her TOP brand. Karl Stütz, Germany

The boots are worth every Euro - since 1985
We didn't have money in the '80s. The leather suits were bought second-hand and when it came to gloves and boots we looked for cheap products. But even then it was true: Whoever buys cheap, buys twice. After 3 pairs of cheap boots I was fed up and my wife and I bought the first Daytonas. Well, in the meantime these boots are only very rarely in use, they were replaced by boots with current safety equipment (Spirit GTX for about 10 years, Trans Open GTX for 3 years, Evo Voltex GTX since this year, so you have the right boot for every purpose) and what can I say, the boots are worth every Euro. I don't regret any of those many Euros we paid for the boots. They go along with everything and are absolutely reliable. I'm proud to ride Daytona boots. Thanks to Daytona for boots with such quality and thanks for following your philosophy so consistently and producing these top quality boots exclusively in Germany. By the way, we like to buy our boots directly from the factory, always a very nice experience. Best regards to Eggenfelden and stay healthy.
Manuela and Martin Fendt, Germany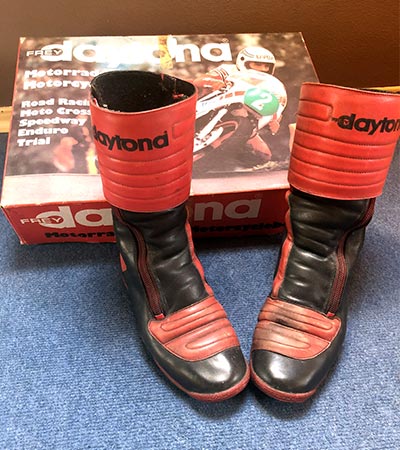 Hard to beat
Two years ago I switched to Daytona boots (Traveller-GTX) and so far I'm very excited about it. After a short break-in period the boots are hard to beat in comfort. Longer trips or journeys are much easier. Also the waterproofness has convinced me. Even in ankle-high water the feet stay dry. I can only recommend the boots and am curious to see how many years and kilometers they will last. Even after that, there will probably be Daytona boots again.
Nils Ebelsheiser, Germany

Quality is worth the price
My special Daytona experience was the decision making alone. After being unable to try on the Evo Sports, Voltex & Security Evo G3 racing models in the local retail outlets during the winter, as none of the dealers had more than one of these models on site, I contacted Frey-Daytona directly as the manufacturer. The reaction was incredibly obliging! I was immediately sent all three models in my size so that I could try them at home in peace and quiet and also have a detailed look at the boots. Die Entscheidung viel dann letztendlich nicht sonderlich schwer. Es wurde aufgrund des tollen Innenschuhs der Security Evo G3. Trotz (oder gerade aufgrund?) der Corona-Krise bin ich mit dem Stiefel etwa 2500 km gefahren. Er ist trotz extremer Sicherheit super bequem. Also alles in allem super freundlicher und kundenorientierter Service und herausragend gute Produkte! Da rückt auch der höhere Anschaffungspreis in den Hintergrund. Ich freue mich jetzt schon auf viele zufriedene Kilometer auf Straße und Rennstrecke!
Nils Egger, Germany

Converted to the time the acquisition was favorable
I have to admit that I don't know how long I've had my Daytona Trans Open GTX, but they were my first decent boots that I bought with my new (2001) GS. The purchase must have been sometime between 2001 and 2002. I listened to the recommendation of the dealer and I have not regretted it until today. The boots are comfortable, fit perfectly, are absolutely tight and feel extremely secure. There is an enormous difference between riding with simple shoes and with a reasonable boot, maybe it is because of exactly this boot. In 2017, because I'm absolutely convinced of Daytona and the experiences I've had so far, I got myself a pair of shorty boots, especially for the trips to work. The same applies here as for the Trans Open GTX. The GTX now needs some touch-ups on the shifting amplification after the long time, but I'm sure that can be repaired, otherwise the look is still tip top. The boot will not be disposed of any more than the GS, for the next 19 years. Converted to the time the purchase was then nevertheless favorable.
Stefan Hauschka, Germany

Thanks for this and for the first-class workmanship
Almost 10 years ago, after many unsuitable boots, I became aware of you and bought my first Daytona boot from Louis (model Spirit). After many 10,000 km I am still amazed today how perfectly and easily this boot fits! It has never let me down in continuous rain as well as in midsummer at almost 40°C and with regular care and maintenance it is still perfect with your foam! Thanks for this and for the first-class, as well as excellent workmanship! I am sure that there are very few manufacturers nowadays where your products last ten years and more. To the next 10 years with your boots! Greetings from Munich
T. Borkenhagen, Germany

Aha effect already at the first time
I bought Daytona Touring GTX boots for the first time, and so far I have been able to ride them 1x. A little "Aha" effect was already noticeable ... very comfortable to wear and the feel gives you the feeling that you have a quality product. That puts the price into perspective.
Peter Becker, Germany

Brilliant bit of kit
I've just got a pair of EVO SPORTS GTX.
Colin Topping, England

Two more wonderful years DHM in the "Sidecar"
Ralf Siegmann, Germany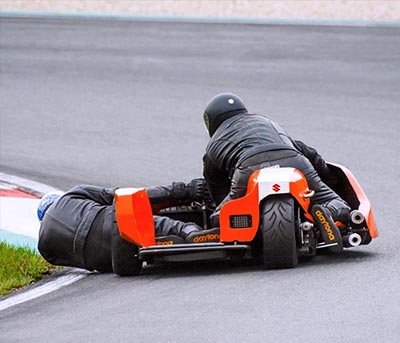 Daytona forever, stay that way
Hello dear Christina Frey nebst dad! I visited you on 3.3.20 in your company to have my boot checked by you after a mishap on my part. What happened afterwards touches me since my visit with you very much. I got the best service and souvenirs, as I have not experienced it for years and would like to thank you very much at this point! You are great and I have told everyone. Daytona forever, stay that way () Best wishes until soon
Christopher Peters, Germany

I'm new at this
... and looking for a good motorcycle boot. Of course, that's when Daytona came to my attention. I would like to experience the many good reviews and testimonials of other motorcyclists myself and I hope that these shoes offer me the necessary protection and comfort to ride my motorcycle long, relaxed and safe.
Fabian Bächle

Great boots
Hello Daytona-Team, I bought my boots in Eggenfelden on Friday 06.03.2020 and I am really looking forward to the first ride. Unfortunately the weather was bad on the weekend, but as soon as they were on the bike with me for the first time, I'll be happy to report to you. In any case they are great boots (Road Star GTX). With kind regards
Werner Miksch, Germany

For the next 90,000 km
A hello to Eggenfelden, these boots are the best I have ever had on my feet and have already done around 90.000 km. Thanks to Daytona these boots got another life, they got new soles and look like new. Once again a big thank you to all and to the next 90.000 km,
Thomas Wendt from Thuringia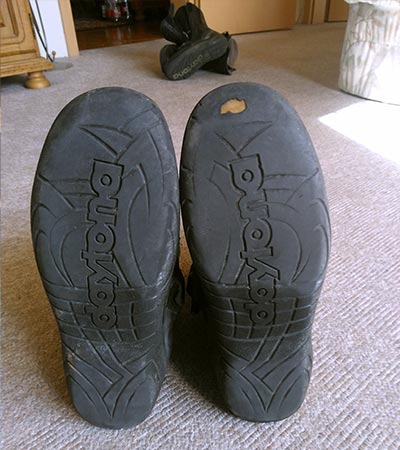 50,000 km in 6 years
Hello Daytona Team, I have been riding Daytona Shorty on the road and on and off the track from 2010 to 2015. The shoe has experienced a good 50,000 km and has held up well until then. Since I don't have the same with the care, they don't look so good anymore. But since racing has taken over, they are now only on the shelf. I will get myself a Daytona racing boot next as I was very happy with the street shoe. Best regards and keep up the good work!
Ken Kwiatkowski, Germany

Get in, feel good, stand safely 6 cm higher
Okay, the old boot was totally done. No question, after I swam in it a lot last season, it was clear, no season longer! Of course it wasn't a Daytona, but another well-known brand with a "D". I am small (158) and the bike is high (81), so either the seat should be unholstered or the boot should be higher. In the shop then, a handle, a boot, get in, feel comfortable, stand safely 6 cm higher. The unholstering of the seat was saved, but I spent a little bit more for the boot, but also kept my seating comfort. I am looking forward to the new season with my Lady Pilot.
Regina Weber, Germany

Old or new?
No, they are not new!
After about 120,000 km my Burdit XCR got leaking.
A drama - for me that's the egg-laying wool milk boot. Comfortable, light and tight.
Sent in after an inquiry at Daytona, got back with a new membrane, sole, inner and insole. A new boot! Thanks!
Norbert Hainz, Austria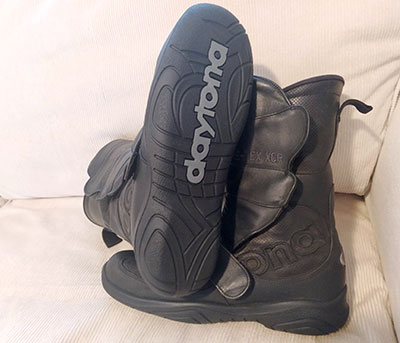 3 years old and still like new
No leaks, only warm comfort!
Guy Foster, UK

Very enthusiastic
After more than three years I had my Daytonas overhauled and picked them up today. I am not only delighted with the optical result and the wearing comfort, but also with the competent advice and the friendly service of the extremely friendly ladies.
Max Baßlsperger, Germany

Also with the next couple there is no way past Daytona
My first shoes were half height Daytona boots*, which I bought around 2011 after buying my first motorcycle. In the past I was more street oriented and hardly more than 5,000 km a year. In 2015 I rode three weeks through Iceland with a few friends. Here the purchase of such high-quality shoes really paid off for the first time. Simply stop somewhere and make a small saving was no problem. Even in heavy rain I kept dry feet and at 2.5°C my feet were still warm. During deep brook crossings, however, of course water came into the short boots. After the tour travelling by motorbike became more and more important for me. Meanwhile I ride up to 20.000 km a year on asphalt and also in the dirt. You can see the 100.000 km on asphalt, dirt, sand and some snow. Nevertheless they are still dense and dry. Now it's time for new boots. Not because the old boots have become bad, but because next year I will make a dream come true and start a one-year journey through Europe and Asia. But I want higher boots that are more off-road oriented. After testing a few of my friends' shoes, I guess Daytona is the place to be.
*I can't recognize the model anymore and can't find it on the homepage either.
Jonas Wiese, Germany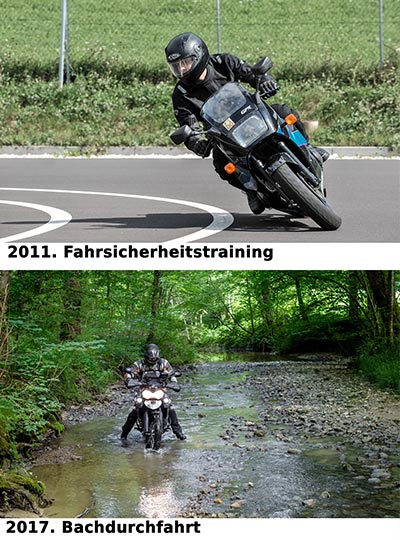 Christmas
is going to the best ever this year!
Shane Massey, United Kingdom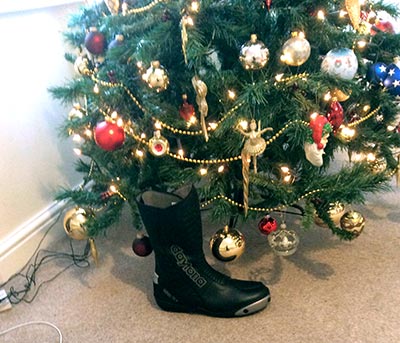 Perfect for quad bikes too
I also like to put on my Daytona shoes for quad biking. Super protection and no wet feet ;-)
Melanie Naumann, Germany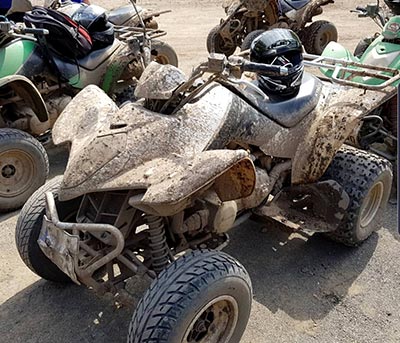 What a great service.
My Spirit GTX had expired, that means the soles had holes. Normally you give the shoes to the garbage can, not to daytona. I happened to be in Lower Bavaria on Thursday and then decided to go to Eggenfelden. The nice lady gave me the best advice and we ordered a new sole plus gearshift paddle, price is TOP. After not even a week, Friday was also a holiday, a package is just around the corner. What can I say? At first I thought they were new... no, the soles are new, the gearshift pad is new and the shoes shine like a baby's butt. I just say, once Daytona, always Daytona and should something not be the way it should be, you will be helped with a terrific service quality. THANK YOU!
Robert Kullmann, Germany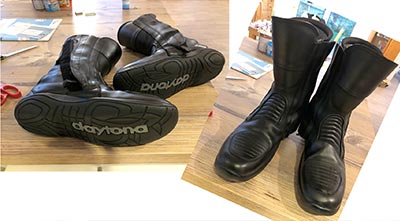 No more buying other boots
We regularly go on holiday in the region of Lower Bavaria and if necessary our Daytonas come with us for inspection. That's what you do with a motorcycle. And after the inspection / repair they are again friends for every tour. We have been riding motorcycles for 42 years and after the first Daytonas it was clear that we would never buy other boots again.
Guido Höhn, Germany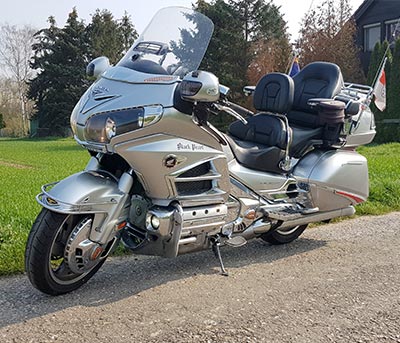 12 Years, 160000 Miles
I've had my Daytona Trans Open now for 12 years, they've been with me for about 160000 miles of England, Wales and Scottish weather on road and trail. Great boots, starting to leak now at 12 years old, but o be fair they have taken a massive amount of punishment.
David Lithgo, UK

There is no better service.
On Tuesday my years old Touring Star GTX was sent in to replace the worn out gear shift reinforcement. Already on Thursday my boots repaired on both sides got back by DHL. They look TOP again. There is no better service. I can recommend DAYTONA 100% to everyone who values quality and a brand promise that is kept.
Marc Smaluhn, Germany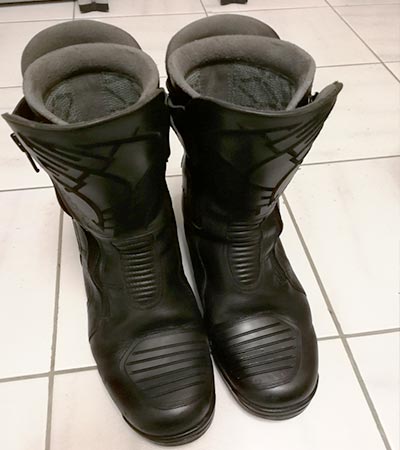 It's all good when Daytona written on it.
Since 42 years on the motorcycle and since 30 years "in" Daytona's. Dry, safe and comfortable, that's how a motorbike boot should be. And is it also...when Daytona is written on it.
Horst Hartmann, Germany

Unbelievable, even after so many years the boot is still top
22 years ago I bought my first and last Gore-Tex boots from Frey Daytona. Since it rained for days at a time on the Salzburgring and the tent "swam" at some point, I didn't take them off overnight either. And look there, the feet were dry!! Run through the mud for days to the individual races, but don't get wet feet! Unbelievable, even after so many years the boot is still top. The profile has almost expired, and I am looking forward to acquiring the "new generation" soon. And I will also go directly to you and personally visit the probably last remaining shop with German workmanship and pick up my NEW ones there. Keep it up and good luck for the future…
Günter Achhammer from Ingolstadt, Germany.

Sitting perfectly and are always waterproof
Hello, I'm driving my second pair of Trans Open now. I am super satisfied and always feel well protected. The boots fit perfectly and have been waterproof for years. Great praise.
Christopher Salzmann, Germany

They have never let me down
I have a pair of motorcycle boots. The lightest, most comfortable and protective against everything like accident, rain and dust. The name is DAYTONA! They have never let me down!
Marius Cvasa, Romania

30 Years, 2 Pairs
Thought I'd just share my boot story as I prepare to buy my second pair of Daytona boots in, oh about, 30 years or so. My first pair are so old now I have no idea what model they are, but I wore them regularly for many years, riding all-year-round, in all weathers from Istanbul to Belfast and everywhere in between. In 1997 my biking days were interrupted by a move to Africa and the boots went into storage. Not for too long though; my niece borrowed them to enjoy the thrill of biking with her boyfriend, now her husband. In 2017 I decided it was time to undertake a long-planned – actually planned is probably not the right word; "thought-of" might be closer – trip from Belfast in S Africa to my birthplace, Belfast in N Ireland. I retrieved my mothballed leathers, repossessed my boots, gave them all a clean and polish and set off on my aging, but completely rebuilt Honda CB 750 K2 on 28th March 2019. (Anyone interested can follow the story at belfast2belfastbybike.com) Day 1 didn't end well, for me or my boots; I lost it going through some deep sand, thankfully whilst going slowly, and ended up on my side. I was OK, but my boots didn't fare so well; one boot had a 3-4" split where the sole had detached from the upper. An on-the-spot repair using some string and gaffer tape allowed me to continue and lasted the next 1,000km. In Pretoria – I was on my way to Belfast from Harare – I found a recommended cobbler and had the soles reattached. The repair looked good and did the job for the next 12,000km. Unfortunately fate then took a hand; I fell down a broken step and fractured a bone in my foot. This has necessitated a 6-8 week delay while the bone mends. It also means I will be riding up through Europe in winter, which was not part of the plan. I decided then that my old boots might not be the best item for this as they are no longer waterproof – I had tried them out a few times in warmer southern climes – and some extra protection for my foot my be a good idea. So it now a pair of M-Star GTX for the next X,000 miles. The old ones? Well, I'm going to explore the possibility of reconditioning and resoling them, and using then when the weather suits their advanced years. Sean Drysdale N Ireland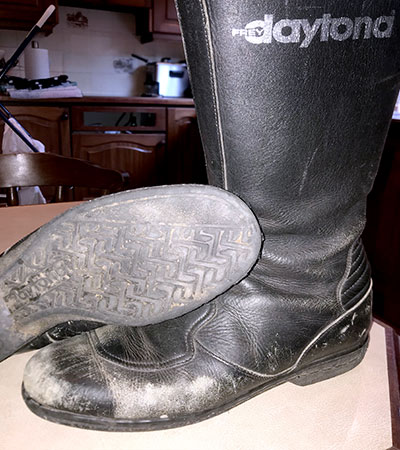 Keep it up!
Dear Daytona team, after more than 150,000 kilometres in seven years through dozens of countries under all weather conditions my Travel Star GTX boots were unfortunately no longer tight. Until then the leather has held up well, the zippers still work perfectly and the lining still looks good. Now I have bought a new pair, again the Travel Star GTX, and hope that it will last that long again. Keep up the good work! Best regards
Mathias Heerwagen, Germany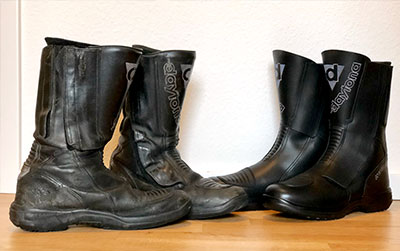 I am infinitely happy and grateful
I just had an accident with an oncoming car on the Alp Tour in France. Your Strive GTX definitely saved my foot, because I tore up the sill of the car from the A to the C-pillar with the footrest!!!!!! I am infinitely happy and grateful to have only suffered severe bruises and bruises, but no broken bones. MUCH THANKS DAYTONA
Christian Göbel, Germany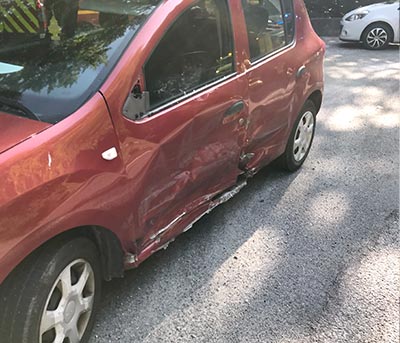 Clear purchase recommendation
Hello everybody, with my Daytona Urban GTX I feel really safe. The solid workmanship always gives me the firm hold I need due to a knee injury! I have been totally satisfied with the boots for years and do not regret the high costs in any case – clear recommendation to buy.
Jörg Frank Germany