Contest
Your experiences prove it:
Daytona® motorcycle boots are worth every cent!
Daytona® motorcycle boots have been around since 1973. During this time, many satisfied customers have written to us about how much they value the quality of their daytona® boots. Write us your story, e.g. how many years you have been on the road with your daytona boot, or how it has protected you from injury in the event of an accident, or simply your opinion on our products.
Or send us a picture of yourself or friends, out and about with a daytona® boot, on a tour, on vacation ...
---
Take part in the competition right away
---

We raffle a pair of Shorty from all submissions every month.
The current winner of the month:
I love them
Something always soaks through: Suit, gloves, cell phone - but the Daytona shoes always keep tight! I love them. Daytona was recommended to me at the time as the best brand for motorcyclists in the store. Now I'm looking at shoes for the supersport: it turns out, Daytona is again the recommendation of all. Only thing I do not understand: why are there no GTX inner shoes for the best 2 shoes? Wanted to buy me the Security G3, now it will probably "only" a Voltex GTX.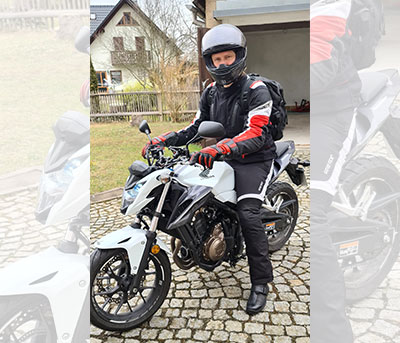 Stories with daytona®
Outstanding quality and remarkable service
In 2002 the first Daytonas came to my big feet. The road stars accompanied me for many years inconspicuously, in the rain, in the heat, sightseeing and sometimes on the race track. At the end of 2015, on a tour through Morocco, my boots ran out of breath. The gearshift reinforcements were detached from both sides of the substructure, and the soles had been worn through and sanded down in the meantime. After 13 years of intensive use, it was now time to invest a few euros in new boots. The Road Star were left behind in the south and were immediately replaced by new Touring Star GTX. Like their predecessors, the boots fit perfectly again. In addition to the excellent product quality, Daytona's remarkable service should also be mentioned. After three years there was a problem with the interior of the 'new' boots. The repair service was able to fix this at short notice and even as a gesture of goodwill (thanks also for that).
Michael Schultze
Daytona and my Susi
are simply a well-rehearsed team, no matter what the season.
Andreas Härtelt, Germany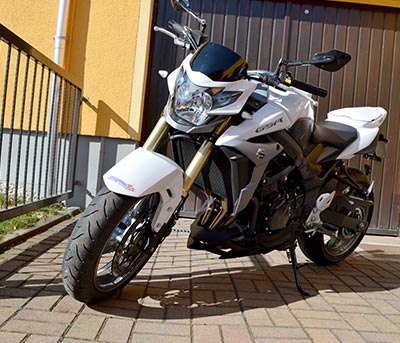 Mountain hiking with daytonas - no problem
With my GS I drove this year to the Rossfeld-Panoramastraße and then to the Almbachklamm in Berchtesgaden. Unfortunately I had forgotten my mountaineering boots. Since the weather was simply wonderful and I intended to hike to the Kneifelspitze, I did the hike with my Daytona boots. No problem! The view of the Watzmann and a - non-alcoholic - wheat beer were the most beautiful reward above. And when I arrived back down at my GS, I had experienced a dreamlike day: Rossfeld and Kneifelspitze and that without mountain boots, but with my "Daytonas". Your
Max Baßlsperger, Germany

Quality is worth it
On my Sport Easy GTX the gearshift amplifiers were getting on in years. The boot is almost 10 years old. Send an inquiry to Daytona for repair, answer no problem. Said, done. Boots came after a week again, looked like new, even new insoles in it. I was very happy. One rarely experiences such a service. It's worth spending money on quality. Because the service there is also right. I hope this company will continue to exist for many, many years to come.
Gerhard Krämer, Germany

Daytona boots are so comfy.
My dog keeps stealing them from me!! -Denim, a very happy customer ;)
Denim Brack, Belgium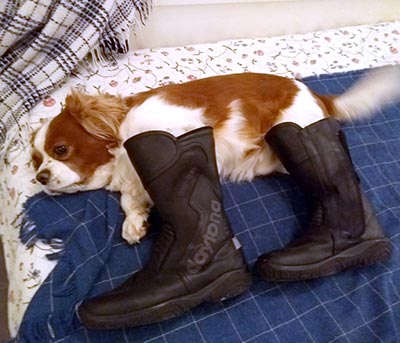 A safe companion for life
Sounds hackneyed, but safety first! Half a year ago I might not have talked like that. Before I always drove with normal shoes for financial reasons. But then, in an accident, I had a torn ligament on my foot. The fall happened not with the motorcycle, but with the bicycle! And that at moderate speed. Not to think about what can happen with the motorcycle. But from such situations one learns and therefore I have bought myself a new companion for the life. - Thank you Daytona.
Alexander Litvinov, Germany

For 12 Years now, through all Seasons
A big thank you to Daytona! Hi, I am Erwin from Amsterdam. I have been using my Road Stars for 12 years now, through all seasons. As you can see, i used them well :) so i decided to stick with you guys and bought myself a new pair of Road Stars today.I just wanted to take some time to write you and thank you for the top notch quality. Use this message as a testimonial or publicity, because i am very happy with the Road Stars! 12 years every penny well worth!! Kind regards from Amsterdam,
Erwin den Engelsen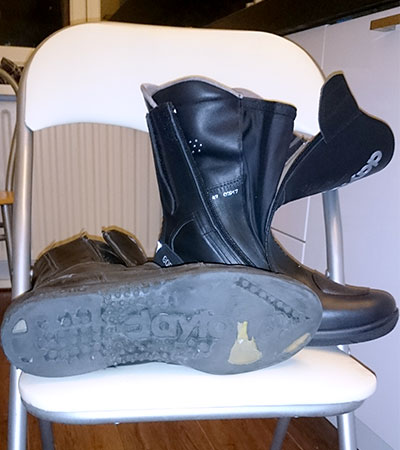 Far, far ahead of all competitors
"Made in Germany" ...rare, but it still exists, the term... I have been wearing daytona motorcycle boots for 37 years now and will continue to wear them for at least 20 years until I stop riding motorcycles. At the age of 15 I started riding motocross races. All the money I could earn at that time I put into my passion, motorcycling. As much as my parents would have liked to support me financially, with four children and a salary it was simply not possible at that time. I had bought my first vehicle and all my equipment in used condition, including my first Daytona boots. They were like on the photo, but in black and white :-) Until today I have been riding a few types of motorcycles (motocross, off-road, trial, supermoto and road) and daytona boots have always accompanied me. ...almost always, because I have tried a few competitors... For me, daytona still lies today in terms of design, quality, service and, above all, corporate management... no... today even more so... far, far ahead of all competitors. Greetings to the management, all employees and of course to all daytona friends,
Jürgen Beier, Germany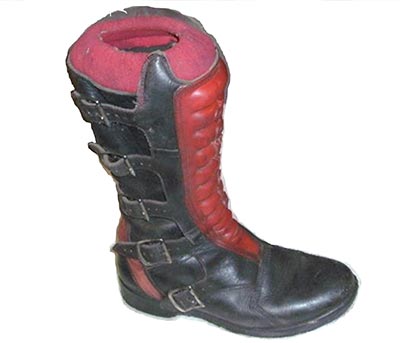 Never another brand
5 years ago I took over my father's very old Daytona. They have been serving him faithfully for a long time and I have also descended thousands of kilometres with them. Never again another brand, really great what you are producing in our region!
Philipp Radecker, Germany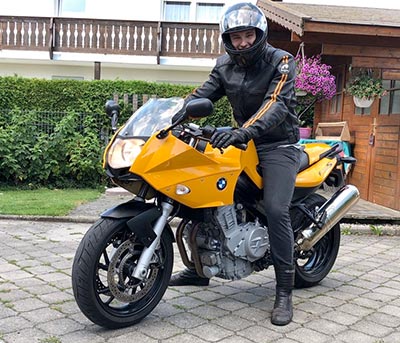 Without Daytonas it does not work
On the way with borrowed Daytonas, because the good weather came back faster than the boots from the repair.
Bernhard Reckmann, Germany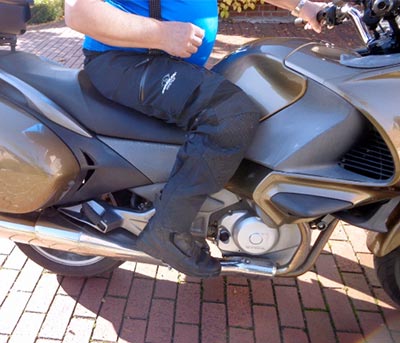 I'm excited
I have owned Daytona boots for 5 years and I am thrilled! On the photo I stand in Daytonas at Kazakh - Chinese border and I am happy!! Greetings to Daytona-Team
Vitalij Tchernych, Germany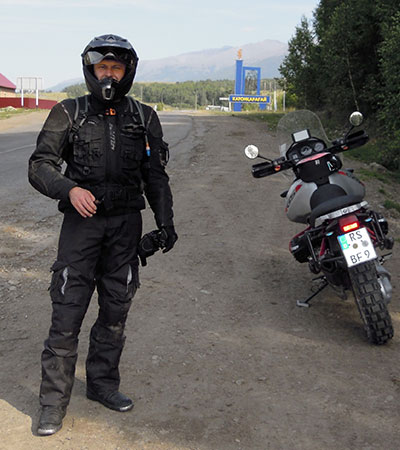 Others are not worth a try
After 5 years and a fall experience they are still comfortable and top. The only drawback The sole is almost smooth. Buy me Daytona again and again, because I attach importance to German complete production. I had recently tried on an Enduro boot with the Asians: Size 48 was max.47. The buckles were not stuck. The screws of the buckle holder were rusted .ALSO: It was not worth a try. Conclusion: Quality and production= DAYTONA
Walter Fasse, Germany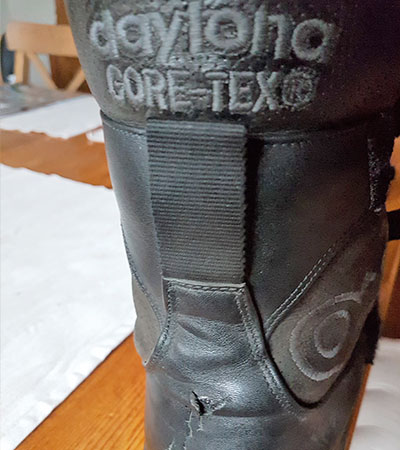 My M-Star
10 years, 120,000 km, on the way to overhaul.
Bernhard Reckmann, Germany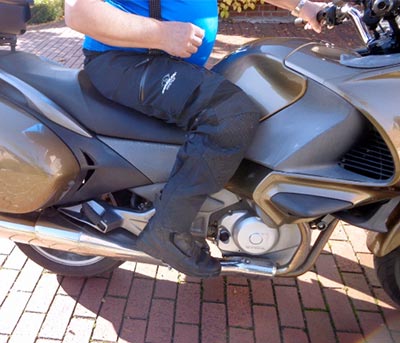 8 years, 1 boot
For the past 18 years I am traveling with the same pair of daytona boots summer and winter. Work-up has been necessary now I send them well but soon into well-deserved retirement. During a fall of 50 kmh and the stupid attempt yet to stabilize the load with the foot, I've broken my ankle unfortunately a few years ago because no help was in sight but kept on the boots. Due to the swelling, the leg was wonderfully splinted in the boot and I was able to drive independently to the hospital the next day. Not recommended for imitation !!
Magnus Spangemacher, Germany

First cream ride comfort
Every year, Daytona is my faithful companion on my GSR. Whether short-haul or day trip, the ride comfort is always first cream.
Andreas Härtelt, Germany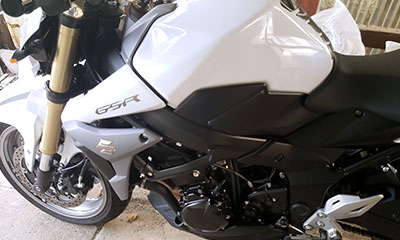 They do everything
My Trans Open GTX have seen in almost exactly 10,5 years and about 90,000 km in my possession for the third time already the North Cape and also quite a lot of Europe. As you can see in the picture, they still have a lot to do and keep my feet nice and dry even on longer trips in bad weather over gravel in Scandinavia.
Christian Kunder, Germany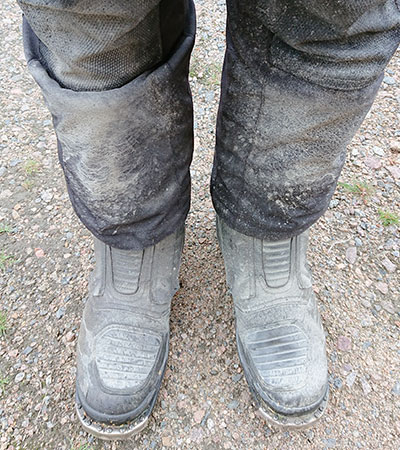 Well equipped for every weather
I've been riding Daytona Journey in almost any weather for years (and the Road Star GTX on the other days) - as well as in August via Switzerland to Spain. Since it was nice weather, I left the GTX at home ... and it came as it should not come. I drove directly into the rain. They have long defied the rain, but the water eventually went through anyway. Thankfully I was able to dry the shoes in the hotel overnight - the GTX were at home ... Since then I always have the 2nd pair as a replacement ;-))) and sometimes as in the photo ...
Regina Hülsmann, Germany

Absolute top Quality of Protection and Comfort
I have been riding all types of motorcycles Harley Davidson triumph and Ducati, I grew up three streets away from the Indian motorcycle museum in Springfield Massachusetts, and I have always had a passion for motorcycles. In searching for motorcycle boots I have tried everything, and the absolute top quality of protection and comfort is the Daytona boot. Alex DeAngelis ,Super bike racer, is one of my closest friends, and I have the advice on the best equipment possible, he gives a "thumbs up ;)on these boots. Danke, Grazie and thank you Daytona! Great Job.
Christopher Perrotta, USA

Heat, rain, drive, walk ... all the best
Hello, for about 70,000 km I have with the Daytona Strive GTX the pure driving pleasure, even in pouring rain and at 38 degrees in the summer. Also on foot a first-class boots !!! Greetings, Mike from Saxony-Anhalt.
Mike Seydel, Germany

20 years
Hello, After several fast unfit low-cost boots and then Springer boots (uncomfortable) it was anno 1998 a few Daytona RoadStar. After two uncomfortable slips (feet but well) and twenty years was finally - sole broken when jacking up. A new pair of the same size fit right away. Nice, that there was the Road Star still.
Matthias Borgers, Germany

These are by far the best
I've owned my Daytona's (M Star GTX) for a month now. I've had many boots over the years and these are by far the best, so much so that I really wish I'd bought a pair years ago as they would still be going strong. Even better they provide the right amount of lift to help muscling my rather tall and heavy motorcycle around much easier and safer. However I have a tiny gripe to share. Because the manufacturer recommends application of the Daytona polish BEFORE first use; why isn't a small complementary tube included in the pack? I had to order a tube online and wait nearly a week before I could use the boots.
Reg Pengelly, United Kingdom

I've had my Daytonas
for almost 10 years and they are still in top form. The quality is outstanding, keep it up :)
Jonathan Häde

Inherited from the father and still here :)
These brilliant boots, like their conspecifics, have already experienced a lot. You have successfully protected my father's feet for many years and have been mine for almost 5 years now. I do not need to mention how incredibly comfortable they are. That's why I can not part with it. Although the years, and one or the other fall, have easily added to the visual, I still wear them. The thought of getting new ones is postponed every time. Great boots !!
Mike Dönni, Germany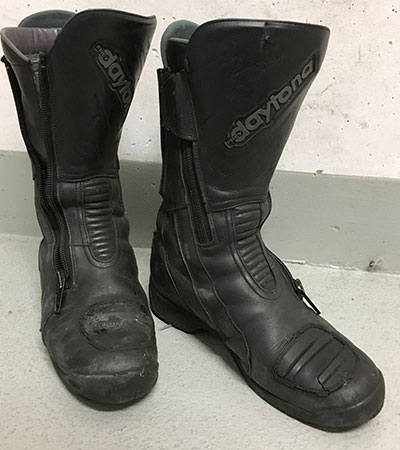 Experience? Quite simply ...
The first motorcycle shoe that really fits!
Eric Chorzepa, Germany

Well invested money
For a long time I bought quite cheap boots for motorcycling and took corresponding problems such as bruises, wet feet etc in purchasing. A friend was thrilled with daytona boots, they were too expensive for me as a new purchase. But I wanted to test for myself, if the enthusiasm of my colleague is appropriate and bought me used. The 80 € for it were very well laid out. I'm very satisfied. My next boots will certainly be from daytona, this time new!
Roger Christmann, Germany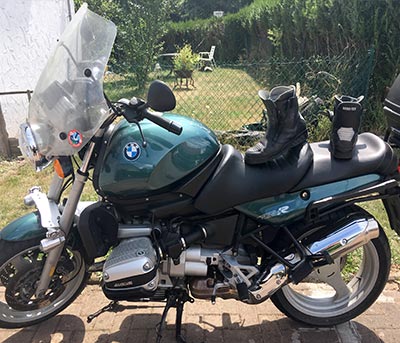 I have never spared her
I have been riding motorcycles for over 30 years. During this time I have worn more than ten pairs of Daytona boots, in the last few years alone I have had two pair of Journeys that I had already repaired twice at Daytona. It was never the quality of the boots, which I have never spared, neither on the Feierabendrunde or on the Nordschleife. In case of several accidents, Daytona boots have always prevented worse. Particularly bad it has caught me with my Yamaha R1 times, as me the front wheel has slipped several times in a curve and I was several feet with my foot between the engine and asphalt was pinched. If I had not worn Daytona boots, my foot would probably have been beyond salvation. Later I gave the boots in my Louis store as illustrative material for the trainees. The current boots have been ruined by me again and I was the days in the specialized trade (FC Moto) and have tried on more than 10 different few boots. Unfortunately EVO and so on were not in stock. Do I have to go there again? I definitely want to try a boot with liner. Sincerely,
Frank Faßbender, Germany
-15° to + 35° C
I've been riding a motorcycle since 2003 and Daytona for so long. Whether at -15 ° or at + 35 °, the boots are just great. Have now got the 3rd pair and never wet feet. Just feel safe with the comfortable boots.
Andreas Schmidt, Germany

Definitely worth every penny
My Daytona experience started in August 2012 and lasted eight months, taking me through countries like Iran, Pakistan and Nepal, all the way to Malaysia. My Lady Star went with me in the truest sense of the word through thick and thin. At the time of my trip, I had just four months for my motorcycle driver's license and terrible fear. The moped was lowered, padded and now only the matching boots were missing. A cheap model had already given up after a year as Sozia already the spirit and in view of the fact that it went further, had what high quality ago. My first impression when slipping into my Daytonas: they are like slippers! Finally motorcycle boots, where you can walk comfortably. Added to this was the increase in sales, which has made life much easier for me as a beginner driver. I do not know how many times my bike fell to my feet. At 50 times I stopped counting. I drove with these boots on bumpy slopes, through mud and rivers. Yes, I can confirm that they are waterproof! Both from outside to inside, and from inside to outside! A fall on a slippery slope, at about 40 km / h in Thailand, has left a clear mark in the leather of my boots and my bike was not fit to drive for a short time afterwards. My feet were wonderful! After this trip, I can only advise anyone to take more money and buy Daytona boots. They are definitely worth every penny. Since I am now a much more experienced driver, I have separated from the sales increase and have switched to a flat model. Right now I'm wearing the Trans Open and - in the summer with great enthusiasm - the Journey GTX.
Jana Danneberg Germany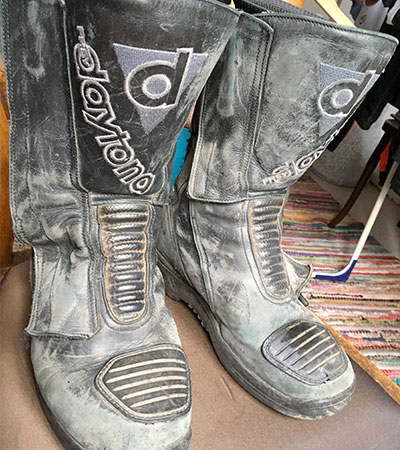 The most comfortable Boots I've ever had
I've worn my Evo Sports for the past 8 or 9 years for classic racing & they're the most comfortable boots I've ever had. Great feel & great protection. Five crashes & my feet are still good. They're a bit scruffy now but I love them!
Robin Stokes, United Kingdom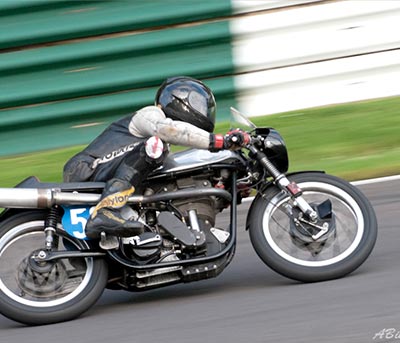 14 years
I've had two pairs of daytona boots for 14 years, the first ones I bought. Everything wonderful, always warm feet ... otherwise I'm more of the frozen one.
Stefan Lettmair, Germany

My first Daytona boots, around 1980
Wolfgang Möhrke, Germany

I've learned the value of good protective clothing
I've been riding bikes through most of my 65 years and although most of my journeys were for commuting, the past few years I have been riding solely for pleasure. Being somewhat older and wiser, I've paid far more attention to safety than ever and I continue to learn new skills and undertake advanced training. In particular, I've learned the value of good protective clothing and in recent years I've been through a number of pairs of boots that claimed to be protective but I've found to be lacking in some regard or another. Finally after all these years I've discovered Daytona. Beyond doubt these are the finest boots to be had, being extremely well made and cleverly designed with safety at the forefront. I've probably got another 15 years of biking left in me and these boots will see me out and then some!
Reg Pengelly, United Kingdom

Thank you for much pleasure at fair prices
Dear Daytona team, I have just received back my 10-year-old Daytona Touring Star GTX from the repair. Thanks for the top quality of your products. And should it be something, you can rely on the lifelong repair service at very fair prices. Thanks to you I will have a lot of fun on my next tours and especially no wet feet. 10 years and they look like new. Keep it up. Best regards,
Thomas Oswald, Germany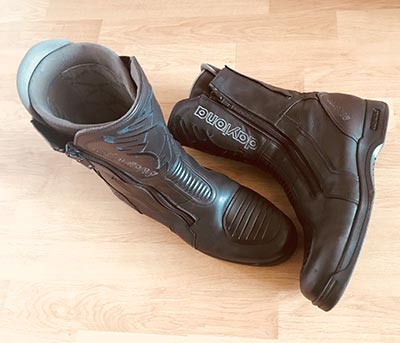 The boot is dense :-)
On a tour (about 450 km in the rain) my pants failed. The water has flowed slowly over the legs into the boots. Water level at the end about 4-5 cm - in the boot! He left nothing out, absolutely dense in both directions :-)
Greetings
Benno van Walsem, Germany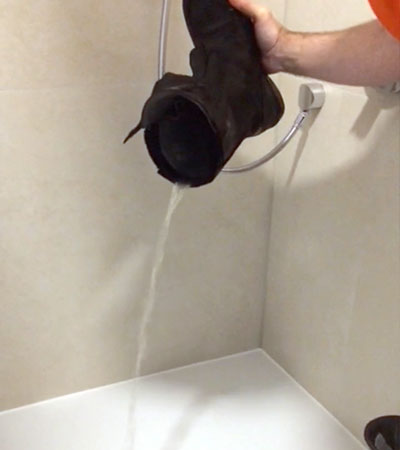 Daytona and many tours. They are worth it.
After I went on a three-day tour with "wet" feet, I bought my first couple of Daytona boots and use them now more than 15 years! I can not spare a smile when I hear my boys complaining ... Daytona is worth it. Currently they are repairing ... they deserve to be refreshed!
Dietmar Breininger, Germany

Great service
For years, I'm looking for "the" boots to my feet. After trying a lot of boots and not being able to find any suitable ones (my instep seems very high), I went to my Daytona dealer and had my foot measured there to have a pair of boots made to measure. A call to Daytona made it possible, great service. Only the dealer did not want to measure my foot again and so I still have no suitable Daytona. My great desire for 38 years of motorcycling and repeatedly aching feet. A few Daytona that fit well on my feet and allow me the rest of the remaining years, painless motorcycling. Best regards
Alex Wentz, Germany

Highly recommended
We have made our tour from Mönchegladbach to Lake Garda. The trip we had to survive in the rain. My boots were "socks wet". Since the brand of biker colleagues is highly recommended to me, I would also like to purchase a pair of Daytona.
Petra Zizkat, Germany

Please, please, now a Daytona
When picking up my Ducati Scrambler from Cologne, I got into a storm. It poured in buckets. My clothes holding tight since I have invested enough. However, I saved with my shoes and I got to feel after two minutes, so I had to empty my lake in the shoe under the next highway bridge first. At that moment, I looked nothing more than having a desired Daytona shoe !!! It would definitely have been worth every penny!
Manuela Wiethof, Germany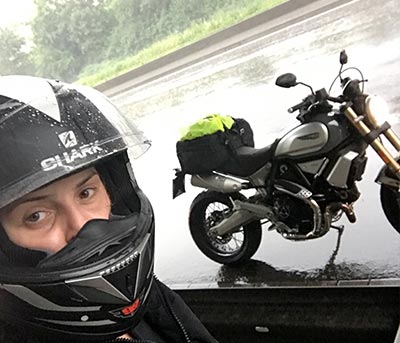 Optimally in all situations
On my first Daytona boots I've saved a long time. But now that I have work, I was able to fulfill my dream: Daytona Touring Star GTX boots bought. And was not disappointed. I used to run work shoes with steel sole. That saved me a foot when he got into the spokes at the back. Footpeg bent, foot healed, lesson learned! When I then put on my Daytona for the first time at a major hamburger chain, it soon became clear: They fit like a glove. Almost as perfect as forest Vierteler shoes for walking on the road, so optimal fit Daytona on the moped. In all situations. So not about or expresses little or in the vastness difficult, no, just good. Suitable for Central Europeans. And this has been confirmed fully over the years: you can put them well and feels comfortable in it, even in the heat and on the race track. Mittle r while I traversed the corners, actually I could to try the fabled repair service. So far I have but rather glued flat iron with Pattex Extreme, because you can scuffing your boots in the curve on the tarmac right. That after hours of wearing such a boot is still comfortable, that is rather the exception. These boots are the exception: much better than anything I knew before, they make a sure impression.
Harry Starnberg, Germany

Unpacked, dressed, fits.
After 12 years of Daytona boots, it was time to buy new boots (zipper torn, but otherwise still perfect). Motorcycle Accessories (Mike's Biker Shop) came to me again only Daytona in question. Because of my high instep, only the Road Star GTX came into question. Unpacked, dressed, fits. The high price is a measure of the quality.
Klaus Meyer, Germany

Super reliable motorcycle boots
After 15 years, unfortunately, the reinforcement on the right shoe dissolves. Perhaps a repair is worthwhile.
Frank Wissing, Germany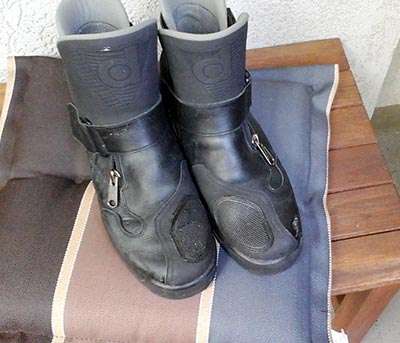 I want the extra 6 cm
I am about to buy Daytona Lady Star GTX boots, to be just a liiiiiiittle bit more comfy on my R1200R. I have cidis and they are solid. And I want the extra 6 cm. Now, back to shopping... (Photo is from my first long trip)
Nikki Bryce, Canada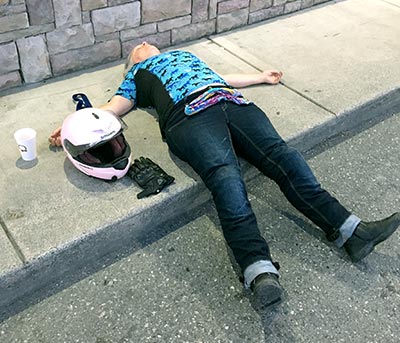 Best friends
For years the daytonas are my best friends in terms of motorcycle comfort. No sweaty feet and comfortable shifting.
Andreas Härtelt, Germany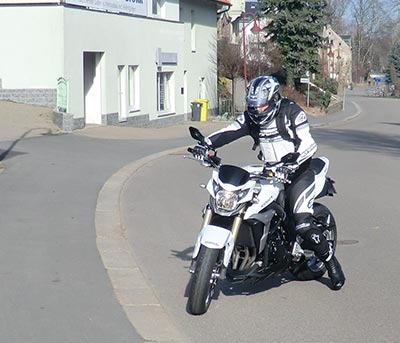 Over 20 years
I do not know how long I've been driving my Daytona Ladystar, but certainly over 20 years and well over 100 Tkm. Waco has specially adapted my leather suit to the Ladystar. Now the rubber pads break for switching. I finally want new Daytona Ladystar!!!!!!!
Susanne Neue Kienzler, Germany

Unrivaled
Without much previous knowledge, I went to a motorcycle shop in search of a motorcycle boot. My search started with the competition - but daytona does not have any, but I realized that later. When I held the first daytona in my hands, I was already thrilled by the soft grip on the leather. When I had the shoe on my foot, I was completely convinced. The fit, the workmanship, the comfortable walking, the safety, for me was now clear: it must be a daytona! I only had one problem. All shoes were black. On the internet, I learned then that the world is also colorful with you. Thanks for that! I ordered my shoe online and in color. Of course, black also fits for my daily journey to work ;)!
Christoph Sieger, Germany

Still from D-Mark times!
My RoadStar GTX are already old. Nevertheless, they are still comfortable and still waterproof. I am not a pronounced frequent traveler, but I'm still positively surprised by the longevity. The leather would certainly be good for another 15 years. The soles are now a bit hard and therefore not so handy. That's why I'll probably buy new ones soon. Meanwhile, I always wear the boots under my Dainese station wagon. The RoadStar GTX fit under it. Surely I also find other models with a sufficiently narrow shaft. Too bad that Daytona offers no special boots for "under the station wagon". Also I would wish that more models would be available in colored variants. That would be for me once again a real pluses.
Michael Burger, Germany

Wonderful boots over 21 years
I have now had these lovely boots for over 21 years and they are still in excellent condition apart from some marine blue paint here and there. My eldest, at the age of 25 months decided to paint them along with my new bedding, carpet, hoover and himself. The carpet, bedding and his clothes were ruined and l didn't hold much hope for my boots. Luckily the majority came off but there remains a few blue spots to remind me and him. He's now going on for 22. My husband thinks l should now relegate them but l don't think so. Wonderful boots. What more can l say!
Jean Peachey, United Kingdom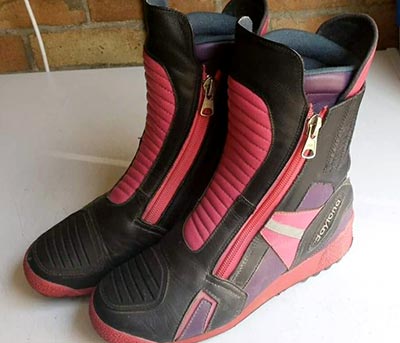 Never shopped better
The first motorcycle boot (AC PRO) I ever bought lasted up to 12 hours a day and was one of the best buys compared to other motorcycle accessories.
Thomas Waldner, Germany

Again and again
Although unfortunately I'm a care griper ;-) my Daytona Arrow Sport GTX have been serving me faithfully for 4 years. Despite my unilateral hallux valgus mega wearing comfort (thanks Daytona). Would I buy again and again!
Ralf Schlösser, Germany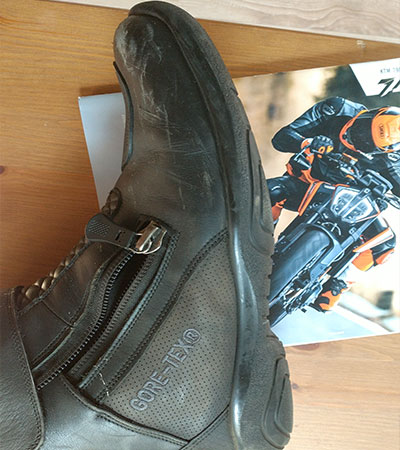 Excellent reaction speed
on request for soling.
Heinz Kistner, Germany